New sustainable tourism accommodation has been approved by the Authority following a detailed landscape-led approach that put design, heritage and ecology at the heart of the development process.
Members of the Planning Committee voted unanimously to approve plans for 12 sustainable treehouses across two woodland sites in the Cowdray Estate near Midhurst.
The application follows the refusal of a previous scheme for 10 treehouses on one of the proposed sites – Lodge Wood – due to the size and scale of development.
The applicant's design teams worked extensively with the Authority's specialist officers and significantly revised the scheme to bring forward a fully landscape-led proposal.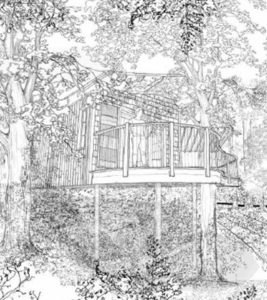 A high-level study was also carried out across 21 potential woodland sites in the Cowdray Estate, ensuring that the chosen locations minimised landscape and ecological impacts.
The plans approved are for five one-bedroom sustainable treehouses at Lodge Wood and seven one-bedroom units at High Field Copse. Both are amenity and plantation woodlands that would be brought back into active management as a result of development.
The proposals were supported by Easebourne Parish Council, which said that the development will sit well within the environment and be of benefit to the local economy. Midhurst Town Council also supported the plan, citing that the development was "an important addition to the local tourist trade".
The materials used have been carefully chosen to be sympathetic and sustainable to each woodland's individual character.
The Authority's Design Officer Benjamin Terry, who worked closely with the applicant on the revised plans, said: "The treehouses sit harmoniously within the woodland due to rationalisation of support structures and removal of superfluous elements to enhance the above ground feeling and minimise adverse impacts on tree roots and ground stability."
The development was approved subject to a number of conditions, including ecological monitoring of the sites.
Tim Slaney, Director of Planning at the South Downs National Park Authority, added: "Every application has to be considered on its own merits and I've been impressed by the collaborative working between the applicant's design team and our specialist officers to create a fully landscape-led proposal that is sympathetic and sensitive to a National Park setting.
"This scheme conserves and enhances the unique heritage, woodland and ecological character of each site, while also aligning with the Second Purpose and Duty of the National Park, including the provision of tourist accommodation, opportunities for the understanding and enjoyment of the National Park's special qualities, and benefitting the local economy."