Conservation Officer Michael Scammell takes an in-depth look at one fascinating feature of the National Park's built heritage.
It is well known that the National Trust is one of the largest landowners in Britain, but less widely appreciated that around one fifth of that land, over 50,000 hectares, was given over the years as a war memorial. As early as 1915 one of the founders of the Trust, Canon Hardwicke Rawnsley, gave land (which he named Peace How) at Borrowdale, as a memorial to those already lost. After the war he led a call for the donation of other open spaces as a permanent memorial to the fallen.
One William Robertson responded to this call.
He left a bequest to the National Trust to acquire property 'within reasonably easy access of London' as a memorial to his two younger brothers who died during the First World War. Second Lieutenant Laurance Grant Robertson, serving in the King's Own Scottish Borderers, was killed in action at Delville Wood during the Battle of the Somme on 30 July, 1916.
His name is recorded on the Thiepval Memorial Arch on the Somme. Captain Norman Cairns Robertson of the Hampshire Regiment, was taken prisoner near Monchy and died in a military hospital at Hanover on 20 June, 1917. He is buried in the Commonwealth War Graves Cemetery at Hamburg.
Nine memorial properties were purchased with William Robertson's bequest. With one exception, each location incorporates some high ground in accordance with his wishes.
The iconic Michel Dene property includes around 71 hectares of cliff, farm and downland on the Seven Sisters overlooking the English Channel.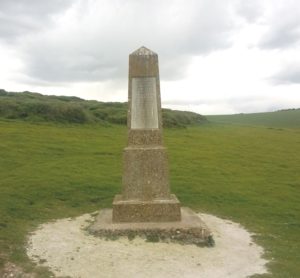 The bequest and dedication is marked by an obelisk on the clifftop with a cast metal plaque, listed by Historic England in 2017.
It is perhaps poignant that the land was purchased on 20 May, 1940, a day on which a later British Expeditionary Force in France was falling back towards the channel port of Dunkirk and a famous deliverance by 'little ships' and the Royal Navy.
There can be few dry, statutory list entries with the capacity to evoke the troubled history of the first half of the 20th Century more effectively.