Shhh! It's National Quiet Day
Shhh! Wednesday 12 September is National Quiet Day.
To mark the occasion we're taking a look at 'Tranquillity' one of the seven special qualities of the South Downs National Park.
Tranquillity is considered to be a state of calm and quietude. It's associated with a feeling of peace. It relates to quality of life, and there is good scientific evidence that it also helps to promote health and well-being. Out in the National Park's landscapes, tranquillity is about perception and it's not just about what you hear but also about what you can see around you.
Tranquillity is recognised as important nationally – for example our current national planning policy says that we should recognise the value tranquil areas have in our society and protect them accordingly.
Here in the South Downs tranquillity is an important part of our landscapes' character. Tranquil and unspoilt places are valued by visitors and the people who live here. In a very busy and pressurised part of the country these places without intrusive development and areas of good quality dark skies are especially important.
Obviously these characteristics don't apply uniformly across the whole of the National Park. Some areas are inevitably more tranquil then others and these should be protected and enhanced. But how do you measure as personal an experience as tranquillity?
To find out where the truly tranquil places are we used methodology first developed by Natural England and the Campaign for the Protection of Rural England (CPRE). Together with a team of volunteers we carried out surveys on 350 different sites in the National Park looking at 44 different factors that contribute towards, or have an impact on, tranquillity. All the data was logged on a mobile App and the different factors were then related and scored so that they could be put on a map.
The result is this map, showing the relative tranquillity of sites across the National Park, the green and blue points are the most tranquil. It's just one part of the evidence developed to support the South Downs Local Plan – now being examined by a Government Planning Inspector.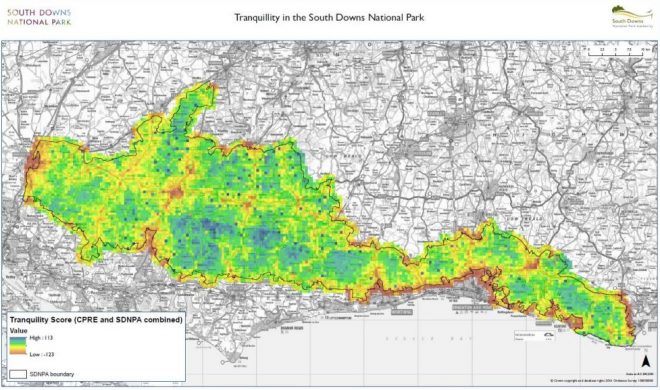 Tranquility isn't a fixed state. Things change over time. Given how important it is to protect and enhance tranquil places we plan to build on this research in the future.
Quick Links
Learn, Enjoy & Care For
National Park Authority
Planning