For much of her life Sathi Sivapragasam felt like opportunities were limited.
But now the grandmother has found a new lease of life – as a volunteer ranger for the South Downs National Park.
Whether it's conservation work, litter picking, fencing, coppicing or laying hedges, Sathi says the South Downs is her 'happy place' and she can't get enough of volunteering.
Now, for National Volunteers' Week (June 1 to June 7), Sathi is encouraging people of all ages and backgrounds to get involved and do their bit to help the National Park, including the many "microvolunteering" opportunities such as a two-minute litter pick, tracking birds or monitoring rights of way.
"I just love being in the South Downs," says Sathi, who lives in Hove and is one of 300 volunteers involved with the South Downs National Park Authority to conserve the special qualities of the area.
"Being with nature is very good for my mental health and overall well-being. It's very peaceful. Volunteering has given me such a sense of purpose and just makes me feel great about life, so I want other people to know about its benefits!"
Rewinding the clock, the mum-of-two recalls her early life and the struggles she faced.
"My life has been quite difficult and, the community where I am from in Sri Lanka, there are limited opportunities for women," explains Sathi.
"I was born in between five brothers so they were given all the chances in life."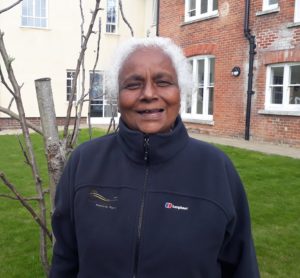 With a fiercely independent streak, Sathi moved to the UK during the 1970s and went on to raise a family, working in a bank in Northampton for many years.
But she says she always felt something was missing and was constantly yearning to be closer to the natural world.
In 2007, she moved from Northampton to be closer to her daughter in Brighton – and it wasn't long before she discovered the amazing landscape on her doorstep.
"The fresh air and the views of the South Downs – I will never forget the first time I experienced it," says Sathi. "I was already interesting in walking – that's always been one of my passions – so I've been returning to the Downs nearly every week ever since."
Sathi initially volunteered for the RSPB after seeing an advert and, a couple of years later, heard about the South Downs Volunteer Ranger Service through a project called MOSAIC, which helped people from BAME backgrounds get involved with National Parks in the UK.
After undergoing training that included learning about countryside management and conservation, Sathi has been a Volunteer Ranger for the past five years. Every week, the Volunteer Rangers have the opportunity to apply for tasks, including coppicing, building fencing, hedge laying, chalk grassland conservation, and improving public access.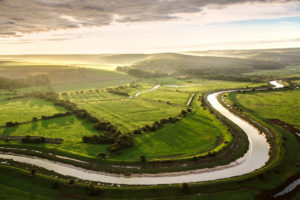 "I just love being outside and being part of a team – I don't care what the job is!" laughs Sathi, whose favourite spot in the National Park is Cuckmere Haven and the stunning Seven Sisters.
"Volunteering has given me a lot of opportunities to experience life and meet new people. I like the camaraderie and I like to connect with nature. There's something very special about it. I'm also really keen for people from minority groups to get involved in volunteering.
"It doesn't have to be a huge commitment, but even things like microvolunteering can have a big impact."
Sathi adds that she just wants to keep on enjoying exploring the landscape so close to her home.
"I don't think I'll ever stop!" laughs Sathi.
"The South Downs has everything – it has the seaside and then the beautiful hills. It's my happy place."
For more information on the work of the Volunteer Ranger Service visit www.southdowns.gov.uk/care-for/volunteering-2/volunteering-ranger-service
There are currently no vacancies for the Volunteer Ranger Service, but there are a number of volunteering opportunities in the National Park, including the Sussex Ornithological Society and Brighton Conservation Volunteers. For more information visit www.southdowns.gov.uk/care-for/volunteering-2/conservation-groups/
Sathi's two microvolunteering tasks:
The two-minute clean
Beach clean, litter pick or path clean, take part when out and about on a dog walk or on the way to work and help reduce the amount of litter dropped.
For more information visit www.beachclean.net or www.walksaroundbritain.co.uk/pathclean
Rights of way monitoring
If you're out walking in West or East Sussex help monitor the rights of way and if you see a bridge with missing deck planks, broken stiles, fallen tree and damaged or missing signs report the issue.
For more information see www.westsussex.gov.uk/rightsofwaymonitoring or www.eastsussex.gov.uk/rightsofwaymonitoring