Sara Clifford, our Writer in Residence, is touring the length and breadth of the National Park this summer as she gathers people's stories, anecdotes and reflections and uses this material for a series of inspiring performances later this year.
Here Sara reflects on her travels so far and the people she has met.
Since April, I have been meeting with and talking to a fantastic range of people in and around the South Downs National Park.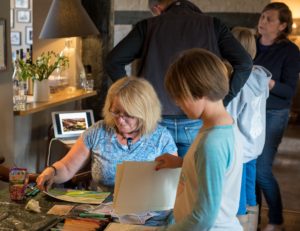 Together with my artist colleagues, we have written poems, drawn pictures, made felt stones, dramatised 'adverts' for the National Park, and talked and talked.  I have sat on stalls at fetes in sunshine and rain, interviewed elders at lunch clubs, run drama workshops in schools and with youth theatres, and hosted family drop-ins in tiny country pubs. By the middle of July, we will have run events in Newhaven, Litlington, Lodsworth, Pulborough, Bowdon, Slindon and Winchester, right across the National Park.
The pictures come from my time at Amberley Working Museum, where I interviewed 'Land Girls' at the Home Front day and retired chaps who regularly volunteer to demonstrate rapidly disappearing skills, such as lathing, wheelwrighting and printing (we had a bit of a laugh, as you can see.. ); and at the Hollist Arms in Lodsworth, a picture postcard village with a friendly pub, where families dropped by to draw, paint and write poems about their most loved places in the National Park.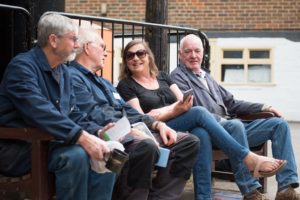 We have talked about the lost times of just two generations ago of drawing water from the well and lighting rooms with oil lamps; but also about the future of the National Park, a commitment to conservation and preserving rare wildlife, and how everyone can access the glorious countryside on our doorstep.
 Part of the project was facilitating people to write their own creative responses, and here are extracts from a couple of these:
 

Alfriston
Is copper, gold and amber, white, pink and mahogany, blue and grey
Fluttering, twittering, rustling and shaking
A harvest of dry grass and blossom, the water of the riverbank
I touch oak moss and dry scratchy reindeer lichen
I feel alive, excited and whole, belonging and connected.
My garden
13th August at night, a dark sky with stars, satellites and shooting stars
There are crickets chirping and trees rustling, I can smell cold night air.
When I touch the ground it feels stony with grains of sand on it
I feel peaceful and calm
(author aged 9 )
And the last lines of these poems were very telling:
I want to breathe it all in and burn it into my eyes, to keep it forever.
 I was born here and hopefully I will return
 Where have all the swallows gone?
 It makes me feel free – because I am outside, and I can go anywhere
(Author aged 6)
Now my research process is coming to an end, and I am about to start writing a one- person show that will somehow encapsulate this love of the land and its rich detail.
The shows will be performed in eight locations, linked to these community events, and we hope that those involved will come to see the outcome, as well as the wider community.
If you'd like to find out more about the project and and share your own stories of the South Downs please visit https://inncrowd.org.uk/writers-in-residence/