Prescribe yourself a health walk in the South Downs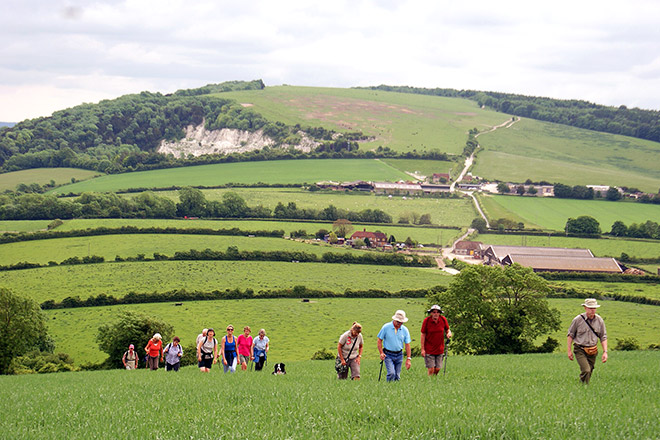 Walking is a fantastic hobby to take up in the South Downs, not only will it help you to keep fit and healthy,  you will also get to see some of the many breathtaking views the National Park has to offer. If you're not sure where to start or don't fancy going out by yourself, try joining a walk group. These are a great way to keep fit and healthy while enjoying beautiful countryside with like-minded people.
That's the idea behind Walking for Health, a national scheme supported by Macmillan Cancer Support and the Ramblers. In West Sussex, health walks have taken off in recent years with schemes such as Arun's Health walks and Chichester HeartSmart walks programme.
In Arun, one group going from strength to strength is the Ferring Healthy Walkers. They have been running for five years and are very popular thanks, in particular, to their energetic and enthusiastic volunteer walk leader Sian Smith. The walks are all free of charge and range from gentle strolls along the seafront to longer walks up on the Downs.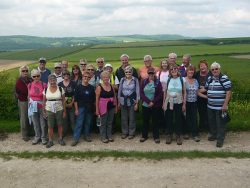 While most of the walks are led by Sian and other trained volunteer walk leaders, rangers from the South Downs National Park Authority have been keen to help lead some of the group walks. With a ranger present walkers can walk and talk, learning about aspects of the National Park such as wildlife, farming and archaeology which they may not be aware of. The rangers are also able to suggest some new routes for the groups to try independently or with friends.
Chichester's HeartSmart walks programme, administered by Chichester District Council, has an incredible range of walks on offer most days of the week all free of charge. SDNPA and National Trust rangers lead some of the walks but like the Ferring Healthy Walkers, the success of the programme is down to the many dedicated volunteer walk leaders who lead the vast majority of walks on offer.
Get in touch with either of these groups or visit the Walking for Health website for a health walk near you and get out in the South Downs National Park for a dose of fresh air.
Quick Links
Learn, Enjoy & Care For
National Park Authority
Planning