The future of one of England's most important and wildlife-rich heathlands is looking brighter than ever after a major fundraising initiative that was boosted by the National Park's planning teams.
Amphibian and Reptile Conservation (AC) successfully reached its target of raising £200,000, allowing the charity to buy 20 hectares of heathland at Blackmoor, near Bordon, Hampshire.
During the year-long fundraising appeal, the National Park Authority was able to help with £42,600 of Section 106 funding.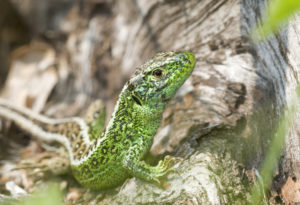 Blackmoor is part of Woolmer Forest Site of Special Scientific Interest, an area that is unique in Britain, and of special significance to ARC, in that it supports 12 of the UK's reptile and amphibian species including the rare smooth snake, sand lizard and natterjack toad. These UK native species have suffered population decline due to habitat loss or fragmentation – underlining the importance of safeguarding key locations such as this.
According to Natural England, Woolmer SSSI is 'considered the most important area of heathland in the Weald of southern England'.
Rob Free, Weald Reserves Manager, said: "It couldn't have gone better with the National Park Authority generously stepping in when we were still short of target but with no further donations coming in.
"We are really delighted to be the new owners of this important heathland site, part of the larger Woolmer Forest Site of Special Scientific Interest.
"We have been managing Blackmoor since 2010 on behalf of the landowner.  During this time around 24 hectares of lowland heathland habitat have been restored from pine and birch scrub woodland of limited value to the special wildlife of the SSSI with funding from a Natural England grant scheme.  Additionally three pond have been restored and these should benefit a range of species including the critically-endangered Spangled Water Beetle as well as the amphibian species present.  It's hoped that natterjack toads will return to Blackmoor from the adjacent Woolmer MoD Training area where they still survive under ARC's custodianship."
ARC have recently put a herd of 11 pedigree longhorn cattle on Blackmoor to help the charity manage the purple moorgrass vegetation.  The purchase of these charismatic and traditional rare breed British cattle by our grazier was grant aided by the National Park's Heathlands Reunited project.
Gill Welsman, Planning Project Management Officer who helps administer the Section 106 award scheme, said: "The biodiversity of our heathlands is extraordinary and one of the reasons for the creation of the South Downs National Park. These internationally-important wildlife havens remain under threat and it's wonderful that the planning function of the National Park Authority can make a significant difference to help nature recovery."
In addition to the many generous individuals giving their support, ARC would like to thank the following donors: The Banister Charitable Trust, Marjorie Coote Animal Charity Trust, The Marsh Christian Trust, The William Dean Countryside and Educational Trust, and The William Haddon Charitable Trust and The British Herpetological Society.