New pavilion in South Downs is on song!
Oyster and lobsters on the menu at Glyndebourne Opera House will have a dual purpose this coming season, as the waste shells will be crushed and crafted into part of the external cladding for a new pavilion.
Wine corks, grass clippings and timber from Ash dieback will be among the other building materials for this unique new development in East Sussex.
Architects BakerBrown Studio received planning approval from the South Downs National Park Authority for the new event space at the world-famous opera house.
The single-story dining pavilion will nestle within existing yew hedges and frames stunning views out over an existing croquet lawn towards the South Downs.
Many of the building materials are sourced either from the site itself, or from the nearby Sussex Weald, and many of these are materials more normally described as "waste".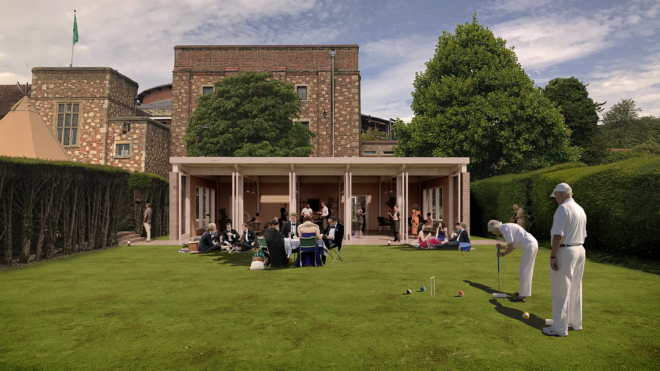 Material specialists Local Works Studio have helped the team develop a palette of building components made of waste and material from the Glyndebourne Estate itself. These include Ash dieback for the timber frame, windows and doors, and chalk from previous excavations to make lime mortar for brickwork and plaster for the interior walls. Food waste – namely oyster and lobster shells – will be collected and processed into beautiful external wall tiles. Corks will be collected on site and bound with mycelium to create bricks for interior walls. Furthermore, underfired bricks from a local brickyard will be used for the interior floor finish.
But perhaps the most unusual element will be the building's insulation. A mycelium mix provided by Biohm will use the site's grass clippings to grow insulation panels.
The pavilion is due to start on site in September 2021 after this season's opera festival is finished and will be completed for April 2022.
Waste material that will be used for the pavilion will be collected from April this year.
Gus Christie, Executive Chairman of Glyndebourne, said: "We are extremely excited that such an innovative building has achieved Planning Approval in the South Downs National Park. It picks up and runs with our ambitions to prove that humans can work with the natural world rather than against it."
The development will also provide the company with a teaching and learning facility for local community groups.