For National Walking Month, we're putting the spotlight on some of the amazing walks you can do within the South Downs National Park.
We're starting with a focus on the iconic South Downs Way.
What is the South Downs Way?
The South Downs Way is 100 miles of beautiful, rolling trail stretching the entire length of the South Downs National Park.
It also has the distinction of being the only National Trail entirely within a UK National Park!
Where does it start?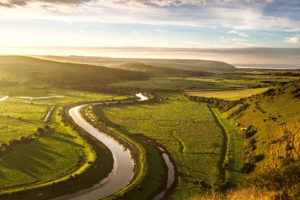 Well, you have two options. While the trail technically runs West to East, beginning in Winchester and finishing in Eastbourne, some hikers prefer to go East to West.
However, the view of the sea as you get towards the Cuckmere Valley is an incredible spectacle.
How long does it take?
As long as you want!
In general, it may take the 'average' hiker anywhere between 4 to 7 days.
However, we all move at a different pace. Some of us prefer to go as fast as we can, others of us prefer to take a more gentle stride.
The brilliant thing about the South Downs Way is there are so many access points and great excuses to get off the trail and venture into a small town or village to head to the pub or sit down for tea and cake.
Where can I stay?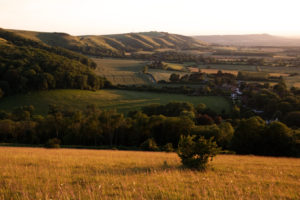 There are literally dozens of places to choose from which are within easy distance of the South Downs Way. You can choose either to camp (although wild camping isn't permitted on the Trail), stay in bed and breakfasts or hotels.
The South Downs Way National Trail website has plenty of information, including a list of trail section accommodation.
When should I do it?
Now!
In all seriousness, as you might expect, we benefit from very typical English weather – unpredictable. However, with all walking, just make sure to wear appropriate clothing and you'll be just fine!
Generally speaking, the South Downs Way is busier in the summer and school holidays. You'll almost always likely come across someone else either walking, cycling or running along the Trail.
Anything else?
If you fancied a crack at the world record for completing the South Downs Way on foot, you could try and beat Mark Perkins time of 14 hours, 3 minutes and 54 seconds set in 2014 at the Centurion Running SWD 100 event.