"National Parks are the natural health service" – meet the woman looking to develop the mental health benefits of the South Downs
Meet Kate Drake, the new dedicated Health and Wellbeing officer for the South Downs National Park.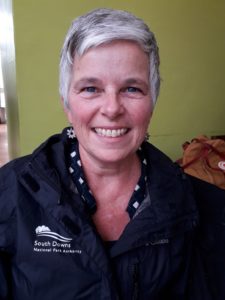 On the back of mounting medical evidence of the strong link between getting active in green open spaces and wellness, the National Park is devising new strategies that encourage people to make the most of this tranquil oasis for its wider health benefits.
Although still in its early development stages, this is likely to include social prescribing, where health professionals will be able to refer patients to benefit from activities in the National Park delivered by the National Park Authority and its partners.
Here we catch up with Kate and find out about her goals, what makes her tick, and her advice for finding your inner wellness.
What does your role at the South Downs National Park involve?
My role is brand new, so I'm in a very exciting position to be able to shape what the role will look like!  I am currently writing the Health and Well-being Strategy and looking at the direction the National Park wants to take this very topical theme.
I see this role as a way of connecting people to the National Park and improving their health and well-being.
It's no secret that the NHS is currently pushed to its limit in terms of capacity.  Part of this role will be to work with those who support individuals who present at their GPs feeling isolated and lonely. They may be presenting with low-level mental health needs and have long-term health conditions.
Through social prescribing they can then be referred on to an experience or activity and benefit from connecting with the National Park.
My role will look to build upon and develop the fantastic work that the National Park's Outreach team have already delivered through Artscape, GROW and Health Walks, to name just a few.
Currently we're looking to work with Public Health England to set up and evaluate a number of pilot projects to link social prescribing to the National Park.
In many ways, National Parks are our "natural health service" and I see this public service becoming increasingly important over the next decade, working alongside our wonderful but under pressure NHS.
Why do you think mental health and wellbeing have become more important and are so widely talked about?
We are all busy people! The demands upon our time have never been greater and this constant task juggling has led to rising levels of stress. It can take its toll and have an effect on the physical and mental aspects of our lives. As individuals, we can only take so much and then the cracks and holes start to appear. I think it is really healthy that aspects of society are starting to talk about these things, although there is still a lot more talking – and doing – to be undertaken.
What is the link between mental health and wellbeing and the National Park?
The South Downs National Park has a wonderful landscape and cultural heritage that provides inspiration for getting fit and healthy. Evidence shows that moderate exercise is good for us both physically and mentally.  Being active and outdoors can bring substantial mental health benefits by reducing stress and raising your mood.  Sharing this experience with others also improves social networking and connectedness.  With all these benefits, why would you not want to access the National Park and enable more people to do so too?
Can you suggest ways of boosting mental health and wellbeing in the National Park?
The National Park already does so many things to boost mental health and wellbeing.   A real focus for my role will be to target more individuals from socially deprived and BAME (Black, Asian and Minority Ethnic Communities) to access the National Park as a way of improving their health and wellbeing. Setting up new partnerships to offer more opportunities in the National Park through arts and heritage, exercise and other activities connecting the individual to nature will be key elements of my role.
For anyone looking to get out into the National Park and ways to improve your health and wellbeing, here's a few yardsticks I would recommend to get people started!
Be active for at least 150 minutes (2½ hours) of moderate intensity activity a week.
Undertake physical activity to improve muscle strength on at least two days a week.
Try to minimise the amount of time spent being sedentary (sitting) for extended periods – this is something for people to be aware of when working in front of a computer. It is so important to take a short break every 30 minutes and walk around, do some stretches or even take a walk at lunchtime.
What does wellness mean to you?
Wellness to me means being in the moment and making the most of every opportunity. For me it's really important to be active, use my brain and connect to others.
Do you think there is a link between wellness and connecting with nature and if so, why?
Yes definitely!  I know on a personal level if I start the day either going for a walk in the National Park or doing something physical the world just feels and looks a better place.
Being outside and active releases serotonin and helps me to feel less stressed, enhances my mood and generally makes me feel a happier person! Research shows that just being in nature can have a positive impact on mental and physical health and can enhance one's mood and the ability to connect with nature.
What are your plans for the future?
I'd like to support more individuals from socially deprived and BAME backgrounds to be able to access any enjoy the National Park.  On a personal level I'm planning to finish walking the South Downs Way and explore new areas of the National Park undiscovered by me up until now.
With health and wellbeing high on the agenda, particularly in light of the recent Glover Review looking into the future of protected landscapes in England, it's certainly an exciting time to be at the South Downs National Park!
For more ideas on getting out and enjoying the National Park, visit www.southdowns.gov.uk/enjoy/