My 40 years of volunteering in the South Downs
Written by Graham, South Downs Volunteer Ranger
I have often been asked what I do with the Volunteer Ranger Service, so after nearly 40 years of volunteering I thought I might give the answer.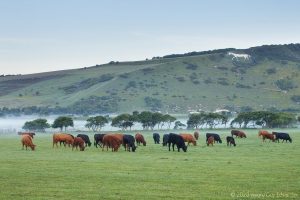 On my first day I chased a cow out of a ditch. I have spent several days on my knees counting plants, and on one snowy day had great fun tobogganing using black plastic sacks. I now know how to dig a deep hole, keep posts upright, make and erect a stile, hang a new gate and dig weed from a pond whilst watching a snake swim on the surface.
There have been special events, like manning the Ranger stand at the wood fair, delivering and erecting a sculpture onto the cliff top of the Seven Sisters Cliffs and taking parties of blind people around the country park.
I know how to set, place and light a fire and use a pitching fork to cook sausages. I have bashed scrub, pulled ragwort and used huge wooden rakes. I have helped with fencing and avoided being pronged by coils of barb wire.
You need to speak to the public clearly, give concise directions and explain down land
facts. If you're lucky you can get to lead walks, or take groups of visitors or children to local places of interest.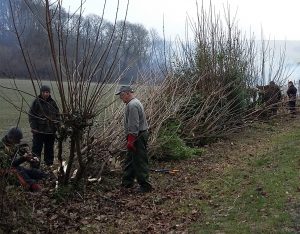 I like the tasks where you can use woodland skills like coppicing or hedge laying. Less fun are tasks like litter picking or repairing the white horse when you get covered in chalk.
You may also get to drive the land rover (after completing the training course) and then go almost anywhere on the downs. You take charge of ensuring the volunteers get to the work site safely. One Sunday we had a puncture and had to change the wheel at the entrance of some tea rooms.
Two other 'tasks' to mention, looking at the down land views and having fun.
Quick Links
Learn, Enjoy & Care For
National Park Authority
Planning