Muddy bridleway gets a welcome makeover
A rundown bridleway is undergoing a much-needed revamp that will help give horse riders, cyclists, and walkers improved access to the countryside.
The British Horse Society (BHS) and Tarmac started work in April on improving bridleway 504, running from Binsted and Kingsley to Frith End in Hampshire.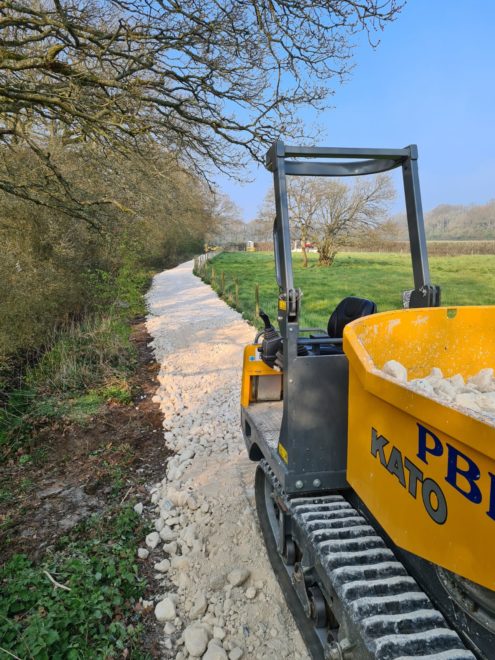 The work will help connect more than 50 miles of route, including the Shipwright's Way and Alice Holt Forest, and will make the route safer for all users. The work is set to be completed by early July.
The route had become very unsafe due to poor drainage, which meant that users could sink over a foot in depth in clay. As a result, riders, walkers and cyclists were being forced to use the busy B3004, which is heavily used by HGV lorries.
A total of £77,438 was put forward for the project, £50,000 of which was kindly granted by Tarmac through the Tarmac Landfill Communities Fund. The remaining funds were secured from the BHS Ride Out Fund, Binsted Parish Council, South Downs National Park Authority, Hampshire County Council, BHS local Hampshire Committee and the local Ramblers committee.
The new surface is a mixture of chalk and Fitteworth stone.
Tracy Casstles, Director of Fundraising at BHS, said: "The partnerships formed here to restore this unsafe route highlight the importance of our access efforts and how the work benefits many people in the local community. We're delighted that this work will allow groups such as equestrians, cyclists and walkers access to safe off-road access opportunities."
Elaina Whittaker-Slark, Lead Ranger for the Western Downs, said: "Having safe access to green spaces has never been more important and this bridleway was in desperate need of a revamp.
"We're really pleased to be able to support this very worthwhile access-for-all project and know it will be particularly welcomed by the riding community who rely on these bridleways."