Minister for Rural Affairs and Biosecurity plants oak in South Downs National Park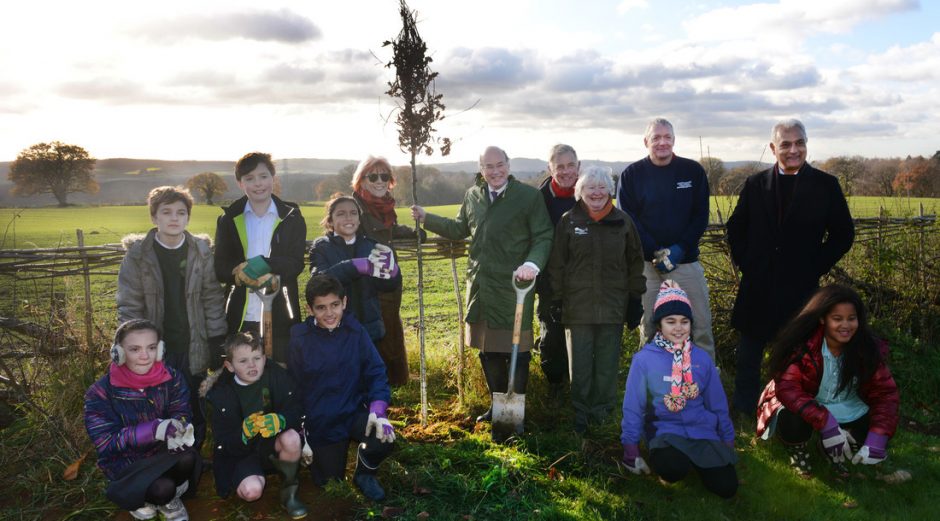 National Tree Week is marked today, 1st December, by the planting of what could be a future ancient monument, if research and action aimed at prevention and management of tree disease is successful.  An oak tree, locally sourced and grown, was carefully sited in a hedgerow on the South Downs National Park by Lord Gardiner, Minister of State at Defra responsible for plant health and biosecurity.  He was enthusiastically helped to change the view by pupils from Easebourne CE Primary School in the South Downs National Park and the hedge location was selected to maximise the benefit to wildlife and biodiversity.
The South Downs National Park is the most wooded National Park in England, and recognizes that there is both need and scope for more. We get food, fuel and building resources from trees; they help prevent flooding, clean our polluted air and water supplies and conserve energy.  Trees are good for business, too. It's been proven that trees increase property values as well as footfall in shopping or business areas, all of which helps to boost the local economy. National Tree Week – the UK's biggest annual festival of trees – recognizes that whatever the reason, trees are a valuable asset and that the nation needs more to be planted, conserved, appreciated and celebrated.
Minister for Rural Affairs and Biosecurity Lord Gardiner said: "I am delighted to be here in this wonderful and wooded National Park, to celebrate National Tree Week. We can all be proud of these beautiful parts of our country. It has been a particular honour to plant an oak, which I am proud to call our national tree. It is vitally important we continue to value our nation's trees, ensuring their resilience against the threats they face. That is why we are investing more than £37 million to understand pests and diseases and find new ways to tackle them."
Pauline Buchanan Black, Director-General of The Tree Council, commented: "The Natural Capital Committee recently advised Government that trees can deliver major gains as part of the 25 year Environment Plan. Their huge economic and environmental value has been understated and it's time that intellectual as well as landscape views were changed to recognise that.  National Tree Week is a good moment to pause, recognise and celebrate the value of trees across the UK. The girth and species of any tree recorded by the public on the online Treezilla map will used to analyse the monetary contribution each tree makes to the people, wildlife and environment nearby."
Margaret Paren, Chair of the SDNPA, said: "Trees and woodlands are a vital part of this beautiful landscape but they need managing to benefit wildlife and boost local timber production. That's why we have established a Forestry Champions Group to bring together foresters, architects, the timber industry, estates and small woodland owners to improve their conservation and enhance them for the future."
Quick Links
Learn, Enjoy & Care For
National Park Authority
Planning