Refurbishing the South Downs Way, creating more habitats to support wildlife and record engagement with young people are among the achievements of the National Park Authority as it looks towards ambitious plans for its 10th anniversary.
Among the highlights of the past year were helping to maintain and enhance 139 chalk grassland, woodland, heathland and river sites across Hampshire and Sussex, as well as enabling 3,593 schoolchildren from towns and cities to learn outside the classroom in the National Park.
The Authority's Annual Review comes as it looks towards 2020, and beyond, with a commitment to tackle the challenges of climate change and turn the tide on biodiversity loss.
Further highlights from the past year include:
Restoring 288 hectares of heathland – a habitat rarer than the rainforest and supporting all 12 of Britain's native reptile and amphibian species – through the Heathlands Reunited project.

Laying 1,014 metres of hedgerow, which support many important insect and bird species.

Over 150 small projects led by rangers across the 1,600 km2 of the National Park to conserve and enhance the landscape, biodiversity and cultural heritage.

Fixing broken sections of the South Downs Way from Winchester to Eastbourne after the community raised £120,000 in the Mend Our Way appeal through the South Downs National Park Trust. Plumpton Plain, near Ditchling Beacon, in East Sussex, now has a brand-new, weather-resistant path, while three more sections will be renovated in the coming months – Old Winchester Hill and Hyden Lane, Butser Hill, in Hampshire, and Millpond Bottom near Penn Hill, West Sussex. A total of 34 gates have also been repaired, three gates have been replaced and 12 new waymarkers have been created.

Three projects are under way in the Brighton area as part of the ChaMP initiative to help protect the aquifer of the South Downs and tackle groundwater pollution through new vegetation planting to soak up road run-off.

Eighty five per cent of planning applications have been dealt with in agreed timescales.

A total of 19 new entry signs have been installed in the National Park and have been positively received.

Some 120 farmers have now joined six farm clusters across the National Park and are working together to promote nature-friendly farming.

Working with major landowners across Hampshire and Sussex to develop strategic estate-wide plans. Five have been approved and seven more are in preparation.

The South Downs Dark Skies Festival saw record numbers – with more than 2,000 people attending events.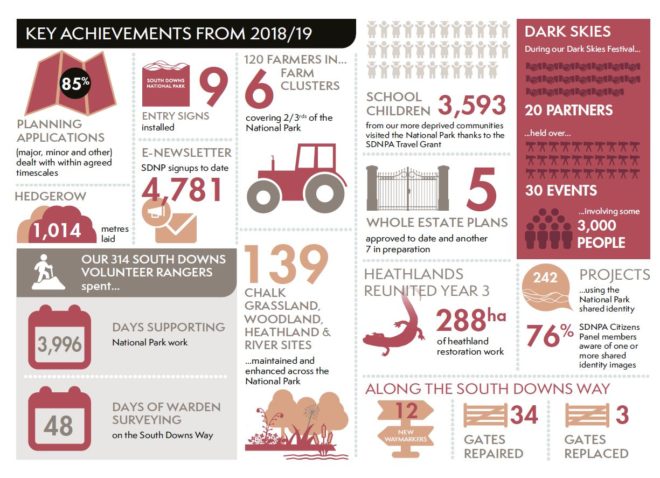 The Authority's new Corporate Plan builds on the success of the past year and sets a number of important goals for the next year, including:
Create new wildflower corridors across the National Park to help halt the decline of bees and other pollinators through the Bee Lines project.

Create a new outreach programme and working with community centres and schools to connect low-income families with nature through fun outdoor learning experiences.

Develop social prescribing with local communities and healthcare providers to promote the health and well-being benefits of the National Park.

Continue to work with farmers to support farmland bird recovery and improving conditions for vital species such as lapwing, grey partridge and barn owl.

Subject to Government approval, create a climate change hub and restore lost species at Seven Sisters Country Park. The Authority is the preferred bidder to take over from East Sussex County Council.

Complete phase four of the Egrets Way shared use route between Lewes and Newhaven, East Sussex, to create a safe cycling and walking path.

Develop South Downs bookable tourism experiences – such as the popular "Ranger Experiences" – tailored towards local, national and international visitors.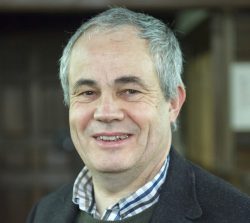 Trevor Beattie, Chief Executive of the South Downs National Park Authority, said: "It's an exciting time as we approach 10 years since the creation of the South Downs National Park.
"Never has our connection with the natural world been so important for health and wellbeing and for the future of our stunning landscapes and wider environment. So we will continue to think big in searching for new ways to reconnect people to their National Park.
"We welcome the higher national profile that the fight against climate change has acquired over recent months. National Park Authorities possess the right skills and tools to help respond to the climate emergency."
And Trevor added: "Our Corporate Plan prioritises the establishment of the South Downs as a nature recovery network and includes extensive projects to conserve and restore our rare chalk and heathland landscapes, and to strengthen pollinators through our Bee Lines project.
"We will continue to work closely with Defra and our farm clusters to shape the future of farming.
"There are challenges and uncertainties ahead, but we are moving ambitiously forward, finding the solutions and forging the partnerships that will secure the special qualities of the South Downs National Park for generations to come."