Love is in the air! Kat's five Valentine's date ideas in the South Downs
From Jane Austen to Tennyson, the beauty of the South Downs has never failed to inspire tales of romance, joy and passion.
The golden chalk hills, immense views and twinkly star-studded skies are the perfect place to enjoy a romantic outing for Valentine's Day.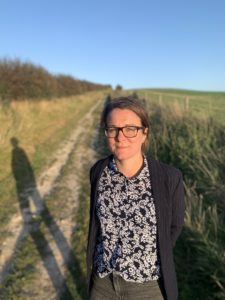 Kat Beer, who heads Sustainable Tourism for the South Downs National Park, said: "Couples are really spoilt for choice in the South Downs. Apart from the fact that the landscape is stunningly beautiful and provides a romantic backdrop to any trip, there are so many things to do that cater for all interests and budgets. It could be as simple as romantic hilltop stroll along the South Downs Way or a cosy dinner by the fire at a South Downs pub, right up to an immersive wine-tasting experience or a relaxing spa break.
"If you've never been to the South Downs before, take this opportunity to discover why so many people have fallen in love with it!"
Here are Kat's five ideas for a romantic trip to the South Downs National Park:
Watch the sunset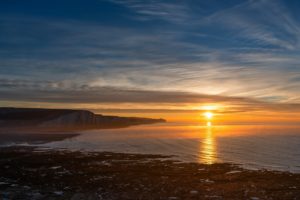 It may still be "wrap up" weather, but February is a gorgeous time of the year to enjoy the South Downs as nature slowly wakes from its winter slumber and the days get longer.
There are some glorious sunsets in the National Park as all kinds of reds, oranges and purples cascade across the sky. Paired with the sublime landscape and you have a recipe for romance!
Why not take a flask of hot chocolate and treat your partner to a sunset stroll at Seven Sisters (stay well away from the cliff edge!), Old Winchester Hill (gazing down to the Solent) or enjoy the breathtaking views of the south coast from Cissbury Ring? Find a nice spot and surprise your partner with a homemade cake (we promise it doesn't have to be heart-shaped!)
Enjoy a winetasting experience
The South Downs has rapidly gained a reputation for being England's own "Champagne" region.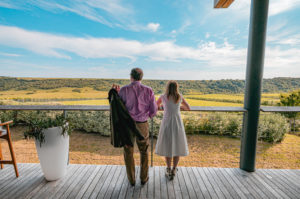 Why not treat your partner this February to a winetasting experience at one of the National Park's many wine estates?
The biggest vineyard of them all is Rathfinny, near Alfriston, East Sussex, where you can drop in, taste and purchase Sussex wines and Seven Sisters spirits. Led by chef Chris Bailey, the Tasting Room restaurant was awarded The Plate MICHELIN 2020, see https://rathfinnyestate.com/tasting-room
In Hampshire is the stunning setting of Hambledon Vineyard, which is running a special "Hearts at Hambledon" event on 15 February. Enjoy an exclusive and private behind-the-scenes tour of the vineyard, finished by an exquisite tasting of the finest English wines, as well as a box of delicious Classic Cuvée Chocolates to take home with you. What could be more idyllic?! Find out more here https://www.participant.co.uk/hearts_at_hambledon_15022020#init
Look up at the sky!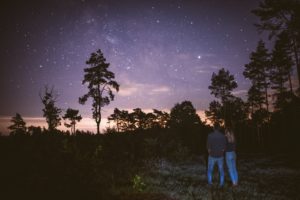 Naming a star after your sweetheart is a beautiful notion that has become a Valentine's favourite in recent years.
Luckily, in the South Downs National Park, there are plenty of stars to see in all their glory! An International Dark Sky Reserve since 2016 and one of only 16 in the world, the area offers majestic views of the constellations.
There are 10 Dark Sky Discovery Sites to choose from in the National Park, all offering free parking and open access to a great evening of stargazing.
For more information on Dark Skies in the South Downs National Park, see www.southdowns.gov.uk/enjoy/dark-night-skies/
Valentine's Day also falls in the middle of the National Park's Dark Skies Festival, with a range of stargazing events for people of all ages. www.southdowns.gov.uk/enjoy/events/south-downs-dark-skies-festival-2020/
Soak up the magic of history
With medieval castles, majestic stately homes and magnificent monuments, the South Downs is oozing with history that cannot fail to evoke emotion.
And an amorous trip to the South Downs wouldn't be complete without a visit to the home of one of the world's most celebrated novelists, Jane Austen.
Jane Austen's House Museum, in Chawton, Hampshire, is a delightful day-out, offering a glimpse into the genius who penned Pride and Prejudice and imagined the world's most famous romantic hero, Mr Darcy. Plan your visit here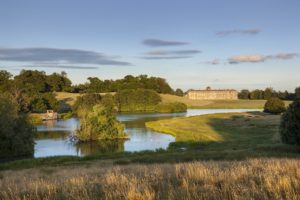 Art galleries are always a romantic affair and the South Downs is blessed with some of the finest artwork in the world. Perhaps the most acclaimed is the collection at Petworth House, a gem inspired by the Baroque palaces of Europe. Spend an hour, or several, admiring the masterpieces of Titian, Blake, Gainsborough and Turner.
The beautiful park, with its serpentine lake, is the work of 'Capability' Brown and is arguably his finest remaining landscape. The perfect place to capture that mushy selfie!
An intimate dinner for two
With local produce aplenty, the South Downs National Park is an odyssey for foodies.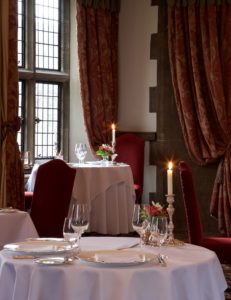 Whether you're looking for a candlelit supper, a cosy pub meal by a roaring log fire, or a lavish lunch, there are options for all palates and budgets in the South Downs.
For the real wow factor, the decadent Amberley Castle is offering a seven-course tasting menu with champagne on 14, 15, and 16 February. Served in its award-winning restaurant, with its barrel-vaulted ceiling dating back to the 12th century and open fireplace, what a wonderful place to raise a toast to love!
For more ideas for places to eat in the South Downs visit https://southdownsfood.org/
All offers mentioned in this article are subject to availability from the provider.