Local MP champions South Downs National Park's 10th anniversary in Commons speech
Arundel and South Downs MP, Andrew Griffith, hosted a dedicated debate in Parliament to mark the 10 years since the South Downs National Park became officially operational.
The local MP highlighted the achievements of the National Park over the decade in his speech and the unique features of the South Downs.
In his full speech, Andrew Griffith said:
"It is a pleasure to rise today on behalf of all of us in Parliament to commemorate the ten years since the South Downs National Park – our nations' newest – was recognised with that status. In fact, like Her Majesty, the Park technically has two birthdays as the Park Authority came into being on the 1st April 2010 and it became fully operational on the 1st April 2011.
"As its name suggests, my constituency of Arundel and South Downs picks up a large swathe of the South Down National Park, picking up the park at Pyecombe and Keymer and following its line north west all the way to Selham and Graffham. That's a distance of some 34 miles which is just over a third of the Parks total 87 mile length as it stretches across three counties between Winchester and the South Coast at the spectacular Seven Sisters which I note were celebrated in one of Royal Mail's latest National Parks stamps.
"Like every 10-year old, it does not get every single thing right, but we celebrate tonight its very many positive impacts including a remarkable spirit of innovation and community. For that I would like to personally commend Chief Executive – Trevor Beattie, Director of Planning – Tim Slaney, and Director of Countryside Policy and Management – Andrew Lee, in promoting and delivering such leading-edge work. Together with the Park Authority members they have formed an effective and stable team and it is very much their achievements that we recognise tonight.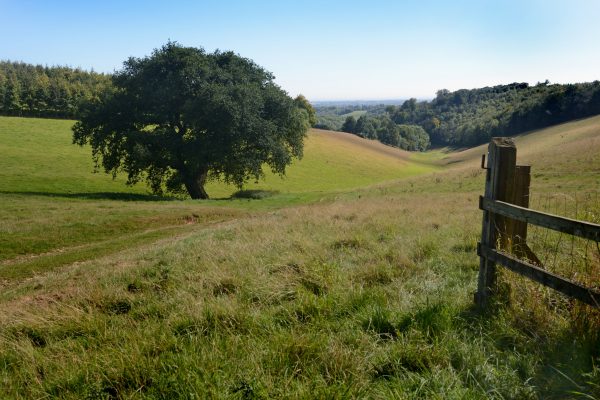 "I should also acknowledge my own predecessor, now appropriately enough the Noble Lord of South Downs, whose tenure covered the birth of the National Park and for his continuing support to me. I hope that with such passionate representation and with voluntary groups like the Friends of the South Downs and indeed many residents in both Houses of this place, the Park never lacks for support or a national voice.
"The South Downs is unique in many ways. Perhaps most graphically, it is the only National Park which you could be strolling through in less than an hour and half's time from London via the gateway rail stations of Pulborough or Amberley – something perhaps when the current restrictions are lifted I can invite [The Speaker] to join me in doing?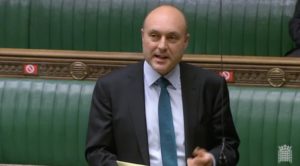 "About 110,000 people live within the Park – more than live in the Lake District and the Peak District combined. But a further 2.2 million live right on its doorstep with another 4 million within an hours drive. This position right on the front line of the over-developed South East makes it vital that the
planning policy protections of the Park are not eroded by this or any future government. Indeed, if we are to avoid what I have referred to previously as the 'Central Park effect' of intense development up to the very boundary, the planning system for National Parks which was set up seventy years ago in the context of some of the most remote parts of the UK, should now go further and establish buffer zones against development and green corridors for wildlife.
"When we think of the South Downs, we picture the idyllic hilltops and ridges of Chanctonbury Ring, Bignor Hill or Devil's Dyke. But we must not overlook the High Streets and small industrial units in the Park that are its beating economic heart providing employment and a vital sense of community. High Streets such as Petworth and Arundel in my constituency as well as Midhurst and Lewes which are full of unique small businesses, retailers and food producers.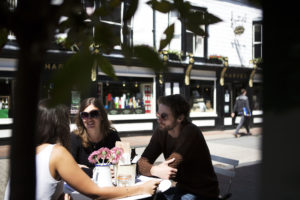 "These High Streets need our support whether through sensible planning policies, exhortations to Shop Local and initiatives such as the one-hour free parking offered by Chichester District Council in Petworth. But there is one more thing that we need to do. It came up today when I was glad to co-sponsor a bill on the subject by my honourable friend the member for Thirsk and Malton this afternoon. We must look again at business rates which tax place rather than profit and discriminate unfairly between business models in the burden of taxation. And if the price of fairness is to replace business rates with a higher rate of sales tax then to me and many businesses across the South Downs that would be a price worth paying.
"Another area of economic activity is the exceptional South Downs National Park's tourism offering. According to the South Downs National Park Authority, there are an astonishing 19 million visitors to the Park each year. Perhaps that's not so surprising when you think of the countless picturesque walks through chalk hills and rural heathlands, thousands of unique and artisan businesses and world-beating places to stay. This generates more than £350 million for the local economy employing around 5,000 people although from my inbox during this pandemic I believe that is a significant underestimate of a sector which doesn't lend itself to easy measurement.
"But is there is one thing which keeps visitors coming back it is our wonderful and diverse local country pubs. They are at the very heart of what community means to many. Some are literally centuries old and never in their entire history of plagues and invasions have they had to face the unprecedented challenge of wave after wave of such government restrictions.
"As well as making the case for continued government support for hospitality businesses, one practical thing that I am doing is producing a local guide to promote these vital establishments and, after this sad period of absence, remind us all of their many and varied attractions. The Park are helping in the pandemic too. Despite their limited budget the Authority established their own £375,000 Covid Recovery Fund with beneficiaries such as The Hungry Guest bakery, Sussex Lamb and the RSPB Pulborough Brooks reserve.
"Another aspect of the Park is its status as an International Dark Sky reserve. It is one of the few remaining places in the south east where the Milky Way can be seen clearly on a dark night. I spoke about this at length in a debate on the 14th of December so I shall not dwell on this further today but it is an important feature of the Park and it is important to me as Chairman of the all party group on Dark Skies. For over 6,000 years humankind has embraced the abundant natural resources that the South Downs has to offer.
"Farming started here in the Bronze Age and with over three-quarters of the South Downs farmed and much of the remainder forestry and woodland, the Park works closely with our farmers, foresters and estates. I'm told there are more sheep than people so it was with shared relief on behalf of local farmers that we learned of the new trade agreement between the UK and the EU recently with its tariff-free access to markets for Sussex lamb producers and I am grateful to my local farmers and the NFU for the constructive dialogue we have locally. Our departure from the European Union to me should be a huge opportunity to transform UK agriculture increasing domestic market share, raising quality and sustainability and improving the profitability of food production.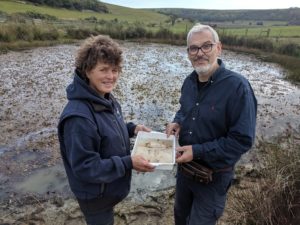 "The National Park has six farmer-led farm clusters that cover two-thirds of the National Park with the excellent Arun to Adur cluster in my constituency. They have also pioneered the approach of Whole Estate Plans with larger rural businesses. This gives the Park Authority a solid platform on which to work with DEFRA on the creation and delivery of the new ELM scheme whose success is so vital to us all. I know Minister, that they would welcome the opportunity to work with you and your colleagues to develop landscape-scale proposals and for our farmers to be involved in the national pilot to ensure that ELM recognises biodiversity and access and enhances our cultural heritage.
"And it is not just farming. In recent years, the fertile soils of the South Downs have witnessed the growth of vineyards producing a variety of internationally recognised outstanding wines. With a soil composition and south facing slopes similar to the Champagne region of France, viticulture in the South Downs is rapidly becoming, the heart of British wine country. There are many distinguished sparkling wine producers across the South Downs including Nyetimber, Wiston, Hattingley and Bolney. I recently had the chance to see winemaker Dermot Sugrue at work on the Wiston Estate and – in what must be one of the only silver linings of that terrible year – Dermot assured me that 2020 will produce one of the finest English vintages yet. Members may also be interested to know that if your constituents visit you and shop for souvenirs they can now purchase an English Sparkling vintage from Digby Fine English, a producer of world-class English sparkling wine based in Arundel as its official supplier. Buy now as they say whilst stocks last!
"But if there is a single thing that excites me most about the Park it is the contribution that it makes to nature and to bio-diversity. From the grazing marshes of the floodplains of the Rivers Arun and Aydur to the lowland grassland on the slopes of the downs, the National Park contains an amazing 660 protected sites of special interest and many internationally-important habitats supporting rare and endangered species of plants and animals. It is possible to spot iconic plant species such as the Burnt Orchid, the Chaffweed or the Bulbous Foxtail. Our heaths are home to Adders, Sand Lizards and both the Field and the Wart-Biter bush cricket. And almost 40 different types of butterfly can be found within its boundaries including the exceptionally rare Duke of Burgundy recently found to be thriving at the Wiston Estate.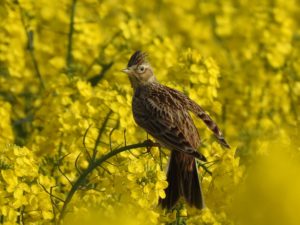 "And the South Downs Farmland Bird Initiative has helped a wide range of threatened bird species found on farmland across the South Downs including the grey partridge, lapwing, yellowhammer and skylark. The Government has rightly identified nature recovery as central to addressing biodiversity loss, climate change and creating a green recovery. I would argue that the South Downs National Park is uniquely placed to deliver on these objectives.
"Nature recovery through partnership working has been at the heart of its work over the last decade, from major projects such as being one of the 12 DEFRA-funded Nature Improvement Areas to smaller nature initiatives in partnership with landowners and local communities. A great example of the latter is Steyning Downland run by over 100 volunteers and which carries out local ecology surveys and habitat conservation, with the aim of promoting conservation and combating loneliness. It is one of many such schemes across the National Park. Last year the Park Authority launched its excellent People & Nature Network, which sets out a vision for restoring biodiversity and providing accessible greenspaces in and around the National Park.
"As part of the Environment Bill, Defra is proposing that every part of England is covered by a Local Nature Recovery Strategy. Five pilots are underway but these are all based on County or Unitary authority boundaries. I would like to see the National Park be given the chance to be at the heart of a Local Nature Recovery Strategy rather than an exclusively county-based approach and ask that if the Minister would kindly give this her consideration.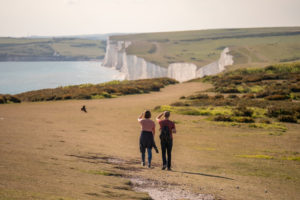 "So, on this 10th anniversary, let me conclude by looking ahead to what the second decade for the Park might hold. First, that they continue to be well supported by the Minister and her Department both in terms of financial certainty and the strengthening of certain powers which will allow it to carry out its functions better. Second, that the recent integration of the Seven Sisters Country Park – a major change the Park's operations – is successful and additive and does not detract from valuable work elsewhere. And third, and perhaps parochially, that we will see the long-awaited transformation of the derelict Shoreham Cement Works site into low carbon, eco-homes. In its first 10 years, the South Downs National Park has established itself as an innovative, partnership-based organisation where people and place come together. Tonight, we wish all involved well and express the hope that something that is so important to our nations future as the one National Park that is on the relative doorstep on this House survives, thrives and has a second decade that is even more successful in achieving all of its many goals."
The Minister responding to Mr Griffith, Rebecca Pow, the Parliamentary Under-Secretary of State at the Department for Environment, Food and Rural Affairs, addressed the local MP's speech by saying:
"I would very much to join in celebrating the anniversary, and to share in this praise of this wonderful landscape. And I would very much like to join in thanking all those who have been involved in this journey through the 10 years to protect and improve this national park. I'd also like to praise and thank all of those who worked so hard to conserve and enhance our beautiful English countryside."
The Minister went on to say:
"I wanted to mention the recent landscapes review led by Julian Glover, which looked at all of our protected areas, and set out his vision for the future of national parks and areas of outstanding natural beauty and the role they might play in the future. The review highlighted the vital roles that these landscapes can play in addressing the twin challenges of nature recovery and climate change, and in supporting the health and wellbeing aspects for our communities. And these issues are very much at the top of the Government's agenda."