Local businesses invited to join National Park's 'Visit, Give, Protect' community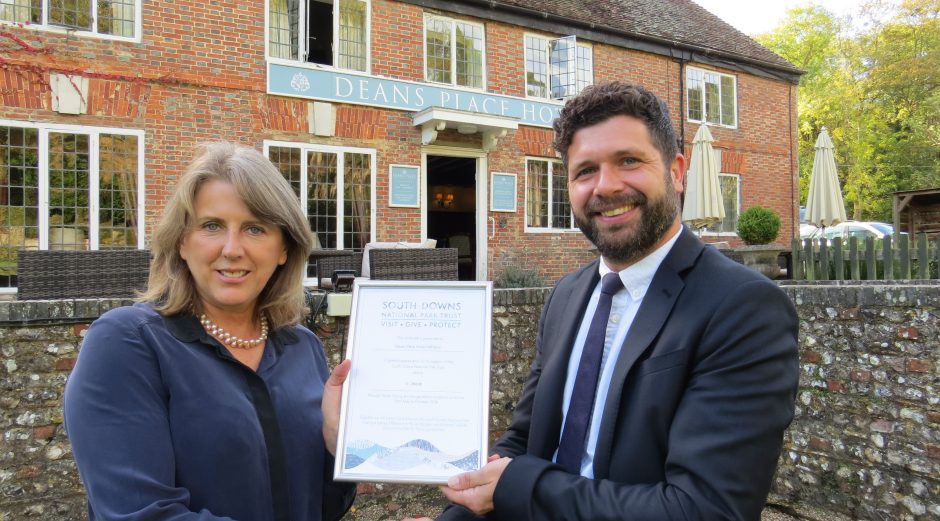 A new scheme bringing local businesses together to encourage customers who love the South Downs National Park to make donations to support it is being launched after the success of a pilot by Deans Place Hotel in Alfriston.
Since May 2018 Deans Place Hotel have asked guests to add an optional donation of £2 onto their bill as part of the South Downs National Park Trust's 'Visit, Give, Protect' pilot. They have found that guests are happy to support the landscapes that they are visiting and have already raised an impressive £1,394 for the new charity.
James Dopson from Deans Place Hotel, said:
"We know our visitors care about the National Park's special landscapes and we're proud to show them that we do too.
"With just a £2 voluntary donation from each booking we can help to make a lasting difference to the environment, wildlife and communities of the South Downs."
The Trust are now inviting more local traders to join the Visit, Give, Protect community of South Downs businesses who are placing the National Park at the heart of what they do and showing they support the landscapes that attract their visitors.
Find out more by emailing visitorgiving@southdownstrust.org.uk
Jo Carr, a Trustee of the South Downs National Park Trust, said:
"Whether it's for tranquil breaks, exhilarating outdoor adventures or tasting delicious local food and drink, the South Downs National Park is gaining a reputation as an important part of our local businesses' visitor offer.
"There are many different ways to get involved. You could, as Deans Place Hotel have done, encourage guests to make an additional £2 voluntary contribution; you could ask guests to round up their food or drink bill; or you could add a voluntary donation to the price of a ticket or entry fees."
Visitors will be able to find the businesses who support the National Park on the Trust's website and the charity plan to run networking events to support the 'Visit, Give, Protect' community and help them learn from each other.
The South Downs National Park Trust is a new charity which works with partners to protect the National Park for future generations. The charity is supported by the National Park Authority who are covering the Trust's core costs for the first three years, meaning all funds raised can be focused on important projects within the National Park.
Quick Links
Learn, Enjoy & Care For
National Park Authority
Planning