Lee Farm opens it's gates to the public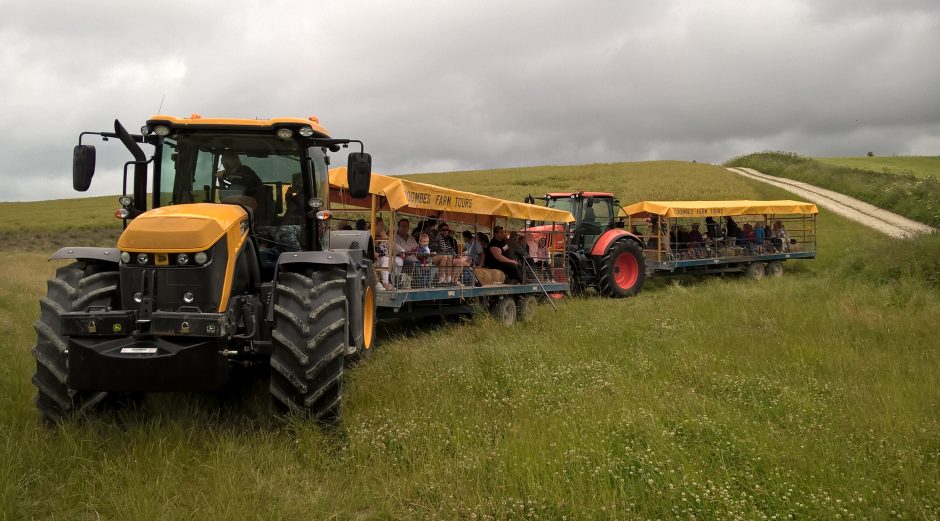 Last Sunday Lee Farm in Angmering, West Sussex,  part of the Arun to Adur Farm Cluster opened their gates to the public to show how local farmers are working together to support local wildlife.  There were tractor and trailer rides, sheep dog trials, sheep shearing demonstrations and other family activities to show what life is like on a working farm and the important role that farmers have to play in caring for the South Downs National Park.
Bruce Fowkes from the RSPB has written a blog post about the successful day on the South Downs Farmland Bird Initiative web page. An extract follows:
"How many members of the public can explain in any detail how a crop of wheat is grown to produce a loaf of bread, or how a lamb is produced that ends up on their plate for a Sunday roast?  Not many I would suggest!" says Bruce. "It seems that in this age of convenience, consumers are well removed from where their food comes from.  But why should people know this when farmland is often off limits to most of us apart from the footpaths and bridleways that crisscross the countryside.
"The aim was to get people out onto a farm to see for themselves how farmers produce not only their food, but also the landscape and wildlife that we all like to enjoy.
Arun to Adur Farm Cluster
"The open day was arranged through the Arun to Adur Farmers Group, a network of 26 farms covering over 8000 hectares on the South Downs between the rivers Arun and Adur.  The group, facilitated by Environmental Consultant Colin Hedley, is delivering a number of innovative landscape scale conservation projects with the help from the South Downs National Park Authority, RSPB, Natural England and Game and Wildlife Conservation Trust.  The open farm event was part of their delivery plan to showcase some of this work, and will be run annually in the future.
"Around 250-300 people attended the day, meaning that those involved were busy explaining what was going on across the farm. The three tractor tours were particularly popular, where Farm Manager, Dominic Gardner, explained all aspects of management from crop production to wildlife conservation to resource protection. Many people found that hearing the ins and outs of a day on the farm directly from those involved to be both informative and uplifting.  Back at the main barn, interested crowds watched sheep being sheared and got to see the inner workings of a brand new Case combine that will be rolling out across the fields in the next few weeks to gather this years crops.
"All in all it was a very successful day and a great credit to Lee Farm and those who helped to bring it together. It is only by engaging with the public that we can expect them to appreciate and understand how a farm works, and farming's importance in producing the food that we eat and the countryside that we all enjoy."
Images courtesy of Bruce Fowkes, RSPB.
Quick Links
Learn, Enjoy & Care For
National Park Authority
Planning