Joint Accord launched between Public Health England and England's ten National Parks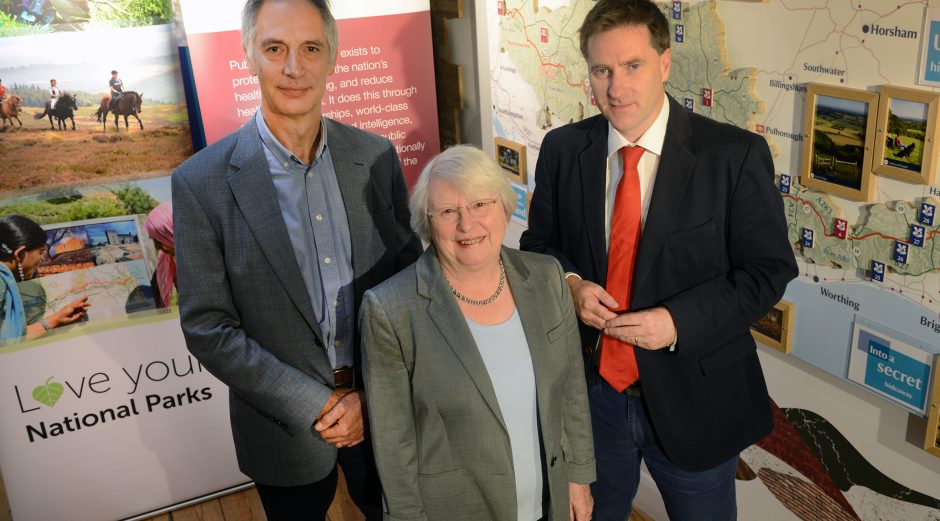 England's National Parks are vital resources that will sit at the centre of plans to improve physical and mental wellbeing thanks to a new partnership between Public Health England and the nation's ten National Parks. Free to access and open 24 hours a day, 365 days a year, these inspiring protected landscapes are key to improving people's physical and mental wellbeing.
The partnership – in the form of a Joint Accord – follows recent research showing that six million people in the country are not even managing to take a ten-minute brisk walk once a month. It will build on work already being carried out to encourage more people to experience the many health benefits of getting out and active in National Parks. The Joint Accord was launched by Steve Brine MP, Minister for Public Health in the South Downs National Park on Friday 8 September.
Public Health Minister Steve Brine, said:
This accord is a win-win. Not only does it help preserve our beautiful national parks, but encourages people to get active, adding years to our lives and saving billions of pounds for our NHS.

Physical activity helps to prevent and manage over 20 chronic conditions, including heart disease, type 2 diabetes, some cancers, mental health problems and musculoskeletal conditions. So I am delighted to help launch this Accord, and I cannot think of a better place to get active than in our National Parks.
Margaret Paren, Chair of the South Downs National Park Authority and National Parks England, said:
Whether for mind or body, there is clear evidence that getting outdoors improves people's wellbeing. Millions of people already enjoy National Parks but with increasing anxiety, mental illness, and physical inactivity this partnership is a great opportunity to build on the innovative work already underway so that more people benefit from being outside in these very special landscapes.
GROW – Supporting recovery and feeling better through activities in nature
A shining example of how National Parks can play a vital part in wellbeing, GROW is an independent charitable organisation in the South Downs National Park run by people with personal experience of mental health issues. Grow's aims are to improve and maintain wellbeing amongst people with lived experience of mental ill-health, by supporting and enabling them to access the therapeutic benefits of being out in nature.
Grow started as a pilot project within Mind in Brighton and Hove which organised a number of activities for within the Sussex countryside at Saddlescombe Farm.  The National Park Authority has provided support by leading events and training sessions as well as provided guided walks. The walks focus on connecting participants with nature and have either been general wanders or concentrated on a specific activity such as looking at tree identification or birds.
Consultations with those who used mental health services led the National Park Authority to believe that people with enduring mental health difficulties find it challenging to access the therapeutic benefits of the countryside; and moreover that they'd like support to do so.  Evaluation of the project has shown that 87.5% of participants reported that Grow has had a significant or great benefit to their mental health, and 63.6% found the same for their physical health.  65% believed they were likely to use mental health services less as a result of the wellbeing effects of Grow.    
Grow continues to offer free of charge and paid for activities, courses and training throughout the year.  Participants have said: "I'm less isolated, more optimistic and connected to others. It's been so refreshing to learn how to focus on the beauty of the environment rather than my illness."
"In an area which is often neglected – mental health – and where conventional treatment all too often tends to involve sitting in a room processing, GROW stands out for me as something radically different – and a little bit magic too."
Quick Links
Learn, Enjoy & Care For
National Park Authority
Planning