Introducing a "Portrait of the South Downs"
June 6, 2023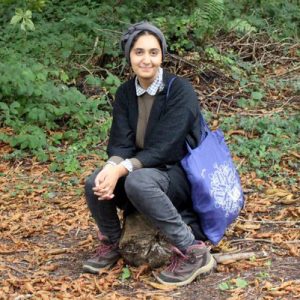 Hidden gems and fascinating stories from the South Downs National Park have been revealed as part of an innovative project led by explorer Saira Niazi.
Saira, founder and guide for Living London which documents wanderings in both urban and rural settings, has helped to a produce a "Portrait of the South Downs National Park". The initiative is part of the Campaign for National Park's New Perspectives Bursary, which gives a platform to those voices less heard in our National Parks.
During the spring and summer of 2022, Saira Niazi met, interviewed and photographed people from all walks of life about their unique and personal connections to the South Downs National Park. 
Saira says: "I've always loved exploring hidden gems and unearthing the stories that surround them.
"My creative practice combines photography and writing – I felt 'Portrait of the South Downs' would be an ideal project to allow me to do the things I most enjoy; explore hidden gems, connect with others and tell stories."
Saira's project beautifully highlights the unique human connection to nature. Everyone has a story to tell and taking time to listen and share can be so valuable and enriching.
Saira says: "Much of my work centres around connecting people and places through story. I felt the New Perspectives bursary would enable me to do this in the context of a landscape I enjoy and feel strongly about."
While working on the project, Saira was granted funding from the South Downs National Park to lead on a separate project that sought to engage people from urban areas by opening the South Downs to them through a series of Community Wanderings projects.
As part of the project, Saira designed and delivered four wandering tours in different parts of South Downs.
The tours aimed to give people who hadn't visited the National Park a chance to explore its hidden gems, to form their own connection to the landscape and to create new friendships.
The project culminated in a series of portraits and a short film made by film-maker Luke Baker.
All the material from the project can be viewed here – Portrait of the South Downs National Park.
New Perspectives is a bursary scheme created by Campaign for National Parks and Ocean City Media which supports young storytellers to share their stories about People, Climate and Nature in National Parks in England and Wales.
Campaign for National Parks is a charity dedicated to securing the future of National Parks in England and Wales.
For more information visit www.cnp.org.uk