Our absolute priority remains the safety of our visitors as well as the 117,000 people living and working within the National Park.
Before travelling to the South Downs National Park, please read our latest guidelines on staying safe and exercising the "3 Rs" – Restraint, Responsibility and Respect
---
You may not know it but July is National Picnic Month.
With so many endearing beauty spots across the National Park, you could have your pick (no pun intended) of anywhere to settle down and enjoy a lovely lunch.
In honour of this quintessentially English month of celebration, we asked some of our sustainable transport partners to suggest their favoured spot for a walk and picnic.
With the South Downs Discovery Ticket, getting across the National Park by bus couldn't be easier.
1. Devils Dyke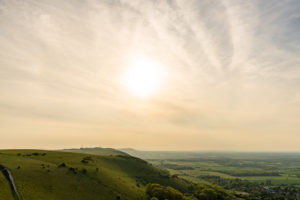 Arguably one of the most impressive views in the South Downs, Devil's Dyke was a popular tourist destination in the late 19th and early 20th century. Between 1887 and 1939, a railway line used to shuttle visitors between Dyke Junction Station (now Aldrington station in Hove) and the foot of the hill.
To entice even more visitors, a funicular-like 'Steep Grade Railway' was installed in 1897 to take visitors from the head of Devil's Dyke down to the village of Poynings.
Brighton and Hove Buses run a number of 'Breeze Buses', taking residents and visitors to Brighton and Hove out into the National Park.
Throughout the summer, the 77 route runs Saturday, Sundays and public holidays, as well as Mondays and Fridays between 17 June and 30 August.
2. Seven Sisters Country Park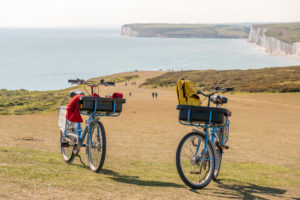 Views don't get as iconic as the white, chalk cliffs of Seven Sisters.
A delightful spot for walking and bird watching, Seven Sisters Country Park is the perfect place for a leisurely lunch.
As with Devil's Dyke, Brighton and Hove Buses run a number of services to Seven Sisters throughout the year including the 13X, 12A and 12X.
3. Birling Gap and Beachy Head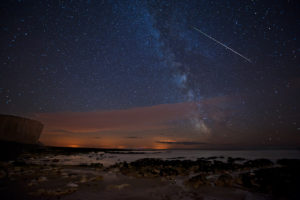 Sitting immediately east of Seven Sisters, Birling Gap is a beautiful enclosed pebble beach and is one of the best spots in the South Downs National Park to view the milky way.
Standing at 531 ft above sea level, a post-lunch walk from Birling Gap up to Beachy Head is a superb way of burning a few calories. We promise the view from the top will be worth it.
Both can be reached on the 13X operated by Brighton and Hove Buses.
4. Bramber
Bramber is very much the idyllic Sussex Village. Think flint walls, thatched roofs and narrow streets.
Neighbouring nearby Steyning, Bramber is perhaps best known for it's medieval castle, originally built to defend an important port on the River Adur.
The Compass Bus 100 service runs between Burgess Hill and Horsham, taking in the villages of Henfield, Upper Beeding, Storrington, Pulborough and Billingshurst, as well as Steyning and Bramber.
Jump off the bus in Bramber and head towards the Adur for a river-side picnic before gently walking to Steyning and heading home.
5. Cissbury Ring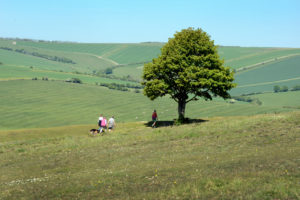 The second largest hillfort in England, Cissbury Ring is steeped in history and legend.
Originally fortified in the Middle Iron-Age, the fort was abandoned shortly after the Roman Conquest of England, quickly becoming farmland.
Metro Bus runs a daily 23 service to May Tree Avenue, your jumping off point for walking towards the Ring.  From here, it's a short walk up May Tree Avenue and Storrington Rise to the National Trust car park and the footpath to the Ring itself.
Once at the top, you can expect 360 degree views across the South Downs, the low Weald, the English Channel and even the North Downs and Surrey Hills.