Local community groups and schools have been invited to take part in free stone carving workshops with Graeme Mitcheson, the appointed artist for the Heathlands Reunited project.
Graeme will be creating works linking seven heathland sites in the South Downs National Park and has been commissioned to create the seven pieces as part of the Heritage Lottery-Funded Heathlands Reunited Project, a partnership project led by the South Downs National Park Authority.
The seven sites involved in the trail include: Wiggonholt, Iping and Stedham, Lavington Plantation, Shortheath Common, Graffham, Black Down and Woolbeding
Over the past two weeks Graeme has held several workshops for schools and community groups located near to the nominated heathlands sites. They have had the opportunity to try some stone carving themselves and even keep the pieces they have produced. Their designs were inspired by what they had learned about heathlands either that day, through educational visits to their local heath or through the completion of their John Muir Awards.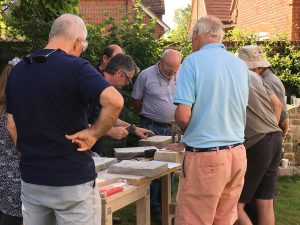 A workshop was also held for the South Downs Volunteer Ranger Service and the Heathlands Reunited volunteers at the South Downs Centre. All of these workshops, combined with Graeme's work with local volunteers collecting heritage stories of the heathlands, will inspire the pieces of artwork to be created for the sites.
Sally Drakeman from Stedham Primary said:
'The stone carving workshop was enjoyed by every child in our two KS2 classes. It was a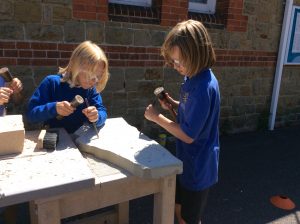 really inclusive activity and one of our pupils with Special Educational Needs was especially thrilled at having her design chosen as one of the ones to be carved. The children are thrilled with the outcome and we can't wait to find the perfect spots in our grounds to site the art for everyone to admire and enjoy. We had a parent with us on the morning as an extra pair of hands and she also said what an unusual but lovely activity it was to offer to the children.'
If you want to find out more about this project contact heathlands@southdowns.gov.uk or visit www.southdowns.gov.uk/heathlands-reunited