As many studies have shown, connecting with the natural world can be very beneficial to maintaining your mental wellbeing. In recognition of Mental Health Awareness week, we spoke to The Grow Project, a local charity that is helping people make that connection.
Grow is a Sussex-based charity that runs low-cost nature connection courses for people who are looking for ways to improve their mental and physical wellbeing. Activities include guided nature walks, conservation tasks, green woodworking, wild food foraging, creative sessions and shepherding.
Jo Wren, Director and course leader of Grow said:
"We are incredibly fortunate to have the beautiful South Downs on our doorstep but for many people with mental health issues accessing this amazing resource can be very difficult. People often lack the confidence, transport or finances to get out to the countryside or they don't feel able to do it on their own. Grow provides the means for people to access the Downs in a safe supported group and here they find a real sense of peace, respite from the difficulties of everyday City-living and a connection with nature, themselves and each other.
Their moods are lifted, anxieties calmed and hopefully they are inspired to get out more into the countryside on their own or with friends as a way to manage their health and wellbeing."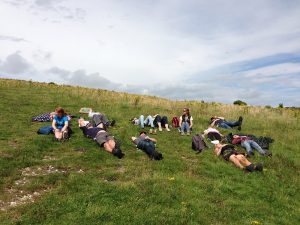 They run 8 week group courses (or Seasons) from Saddlescombe Farm near Devils Dyke. Their courses are designed to suit various levels of ability and they have a very easy application process. Find more info on their website.
Grow is a small charity which is reliant on grants and donations to continue its activities. If you'd like to support their work please get in touch via their website or make a donation online.
They also run one-off days for organisations and groups either as a team building activity or for staff wellbeing.
If you'd like to know more please get in touch with them at info@growingwellbeing.org.uk.