Getting active with Olympic legend for physical and mental health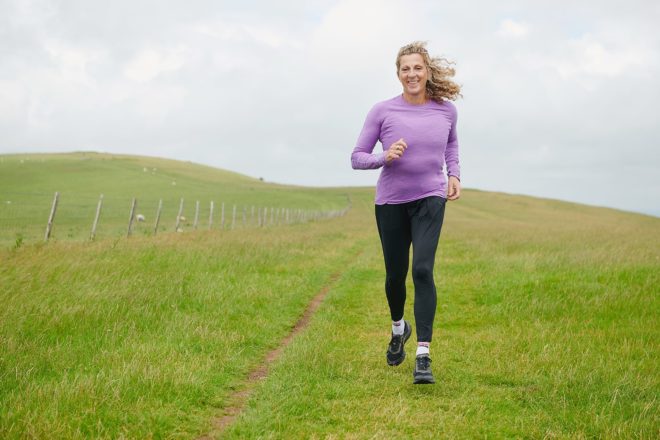 Olympic champion Sally Gunnell is helping to inspire people to get fit in the great outdoors.
Sally, who was the first female 400 metres hurdler in history to win the Olympic and World titles and break the world record, was filmed at Firle Beacon in the National Park as part of a nationwide campaign to help people with both their physical and mental wellbeing.
It came as National Parks Partnerships teamed up with The Outdoor Gym Company to produce a digital fitness programme that can be accessed via smart phone.
The course promotes the physical and mental health benefits of walking or jogging in beautiful National Parks across England, Scotland and Wales.
Sally turns walks into workouts with over 75 bodyweight activities throughout the course and moves for all ages to build stamina, muscle strength and bone density over time.
Sally, who lives in Steyning, West Sussex, said: "My activity has changed a lot since my competitive days on the world stage. Today, staying active is as much about my mental wellbeing as my physical health. Like all of us, I just want to feel good about myself and movement is one of my keys to a happy life. I want as many people as possible to make the most of free outdoor activity."
Kate Drake, Health and Wellbeing Officer for the South Downs National Park, added: "We were delighted to welcome Olympian Sally Gunnell for her outdoor workout. With over 2,000 miles of rights of way and the internationally-renowned 100-mile South Downs Way, there are so many opportunities to walk, jog, run or cycle, breathing in fresh air and beautiful views. National Parks really are places to replenish the soul, both physically and mentally."
TGO Activate will donate 33% of course profits to National Parks for reinvestment in the conservation of their beautiful green spaces.
To find out more and look at the workouts click here.