Generosity and goodwill of guests gives big boost for National Park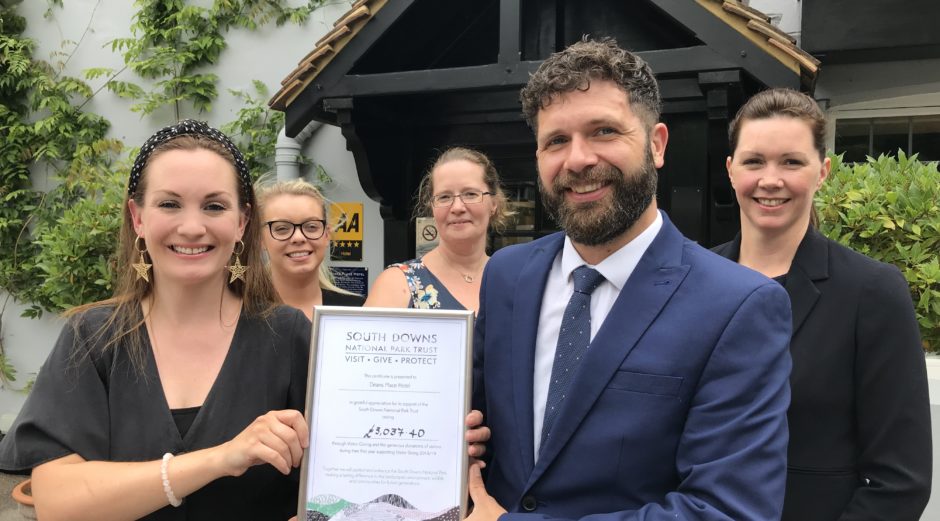 More than £3,000 has been donated by guests at one of East Sussex's most iconic hotels to help protect the South Downs National Park for future generations.
The team from Deans Place, in Alfriston, were beaming with pride as the donation was given to the South Downs National Park Trust, a charity working to support vital community and biodiversity projects across the region.

The hotel was the first Visitor Giving Partner for the Trust and the impressive sum was raised in a single year. The initiative means guests have the option of donating on top of the cost of their stay to help protect the extraordinary landscape.
Among the initiatives the Trust is helping to fund are new cycling and walking routes, including for those with limited mobility, protection of endangered species such as the white letter hairstreak butterfly, and re-establishing historic hedgerows to support more wildlife. The charity is also funding a project to ensure more children can learn outside and get closer to nature.
Sandra Grant, who leads on the Visitor Giving Scheme for the Trust, said: "The team at Deans Place have really led the way in the success of this new initiative.
"I'd like to thank every single hotel guest who donated. Every penny will go towards safeguarding this beautiful area, allowing more people to access it and ensuring that the South Downs remains a special place for many years to come."
James Dopson, Manager at Deans Place, said: "We're thrilled to be able to help care for one of Britain's most cherished landscapes through this donation. It wouldn't have been possible without the generosity and goodwill of our guests, so a big thank you to them.
"We've experienced an increase in visitor numbers over the past year and it's clear our guests have a deep fondness for the National Park and the South Downs Way. We're so lucky to have this amazing asset on our doorstep and we feel it's very important as a business to help care for it."
A clutch of other hospitality businesses are now successfully running Visitor Giving Partnerships, including the Hydro Hotel in Eastbourne and Best of Brighton Holiday Lettings.
Any business interested in signing up to the scheme can contact Sandra Grant on Sandra.Grant@southdownstrust.org.uk or call 01730 819223.
The South Downs National Park Trust is the official charity of the South Downs National Park. To find out more about the South Downs National Park Trust and the work they do visit www.southdownstrust.org.uk
Quick Links
Learn, Enjoy & Care For
National Park Authority
Planning