Although the female adult still looks like she is incubating, all four of our barn owl eggs have now hatched.
As yet the newly hatched 'owlets' do not have any feathers or down, so they need to be kept warm by the adult. Once they are about 10 days old they start to develop a downy fluff. The oldest owlet (hatched on 21 May) is now over two weeks old, is noticeably bigger than the others and has started developing down.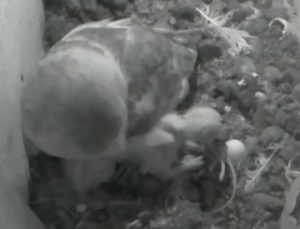 The adult will tear bits of food off to give to the new owlets but the oldest is now just about old enough to swallow its first prey whole. This morning it had a good two attempts at swallowing a vole. It would seem quite a challenge!
Once the owlets have developed their down they no longer need to be kept warm and will start to move around the nest box more. At this point the adult female will also start leaving the box to help the male hunt for food.
The young owlets and adults will each need up to four voles or mice per day. With six birds in total to feed it will help once the female can assist with the hunting.
Keep your eyes on the barn owl nest box camera over the next few days to see the owlets developing.