Five winter walks in the South Downs
The South Downs is a beautiful place to explore at any time of the year, but there's something really special about enjoying a walk in the countryside in the winter.
We've put together a list of some of our favourite walks, you can find all of these and more on our Walking page.
Our walking and cycling trails can also be downloaded on ViewRanger, an Android and iOS app, which makes them even easier to follow and saves your printer ink.
Seven Sisters
Seven Sisters Country Park is named after the famous Seven Sisters chalk cliffs that form part of the Sussex Heritage Coast.
This is one of our Miles Without Stiles routes, which are suitable for push chairs and people with limited mobility or those using wheelchairs or mobility scooters. The route is just over a mile long and passes along the Cuckmere river before taking in views of the Seven Sisters on Cuckmere Haven beach. Make sure to wrap up warm!
Miles Without Stiles – Seven Sisters
Ditchling Beacon and Devil's Dyke
Explore the highest point in East Sussex, Ditchling Beacon, with its stunning views over the weald and out to sea, or Devil's Dyke, the longest, deepest and widest 'dry valley' in the whole of the UK.
The leaflet below also includes a linear walk along a dramatic section of the South Downs Way taking in the iconic Jack and Jill windmills at Clayton and picturesque Pyecombe village.
South Downs Walks – Ditchling Beacon and Devil's Dyke
Rogate and Harting
Explore patchwork fields, peaceful villages and the scenic River Rother.
Detailing two routes, one starting in Rogate and one in South Harting, this walk takes you through some of the stunning quintessentially English countryside of the Weald.
You'll also walk part of the Serpent Trail, the 64 mile long route which winds it way through the stunning heathlands of the South Downs. When you reach the banks of the River Rother, tread quietly and you might be able to spot kingfishers and herons on the banks.
Cheriton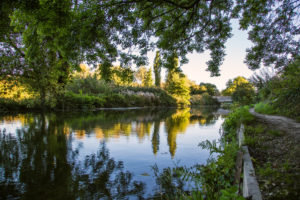 This is a 10 mile walk, so it's perfect if you want to make a real day of it. It is also possible to take a short cut and save yourself 5 miles or so if you don't have enough time for the full route.
Cheriton has a claim to be Hampshire's prettiest village. Its church sits upon an ancient barrow and the River Itchen, which rises nearby, runs through the village beside its thatched cottages. The highest part of the tis trail goes along the South Downs Way, where there are excellent views and you may be able to spot Red Kites flying below.
The Meon Valley Trail
Discover a trail that leads you through English history. Once a railway line running from Fareham to Alton transporting local livestock and agricultural produce, the trail now spans 11 miles through picturesque countryside, from West Meon in the north to Wickham in the south.
The trail is suitable for Suitable for cyclists, walkers and horse riders (carriages
are only permitted north of West Walk). There are no stiles along the way and as the gradient is mostly flat with a  wide path, it is suitable for pushchairs and mobility scooters.