More than 50 entries ranging from a cinema to a visitor centre have been put forward for the first Design Awards for the South Downs National Park – and there's still time left to nominate.
The awards opened for nominations at the beginning of March and will close on June 28.
They will celebrate projects that have made a standout contribution to the landscape, heritage, built environment and local communities.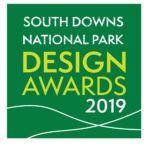 A diverse mix of submissions have been received so far, including a visitor centre, cinema and restaurant, residential schemes, garden designs and extensions to listed buildings.
Nominations remain open in the following categories:
Residential (individual building/housing development small/large)

Non-residential (commercial/industrial/infrastructure)

Conservation (landscape/buildings/gardens/craftsmanship)
There will also be a People's Choice award – voted for by the general public as their favourite across these three categories.
Tim Slaney, Director of Planning at the South Downs National Park Authority, said: "We launched these inaugural awards to raise awareness of the contribution that good design can make to the quality of our local environments and communities.
"The response so far has been wonderful and we've been very impressed with the standard of entries which show real innovation and sensitivity in their design.
"Time is now running out to nominate, so I would urge interested parties to download the nomination pack as soon as they can."
Four trophies are being produced by a leading designer, using materials sourced in the National Park.
A special awards ceremony will be held on November 12 – tying in with the anniversary of Hillary Benn signing the National Park's official designation.
Entries can be submitted by anyone who considers the scheme suitable for an award, including the owners, architects, designers, developers, parish councils, amenity societies or any member of the public. In all cases the consent of the owner must be obtained prior to making a formal nomination.
For more details and to download a nomination form visit www.southdowns.gov.uk/designaward
The deadline for nominations is 5pm on June 28.
Completed entry forms should be e-mailed to design@southdowns.gov.uk