Helping wildlife havens and capturing the beauty of nature through photography are among the exciting themes as Youth Actions Days return to the National Park.
Five environmental action days are taking place in the South Downs during the October half-term and will give young people the opportunity to gets hand-on in conservation.
It follows the success of South Downs Youth Action during the summer, when dozens of young people took part in vital conservation work, including collecting plastic that could threaten wildlife.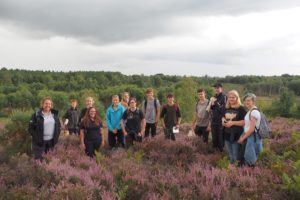 A key activity for the autumn will be helping to protect the internationally-important chalk grassland and heathland habitats of the National Park – which support species such as the rare Field Cricket, smooth snake and Duke of Burgundy butterfly. Activities such as scrub clearance and coppicing are vital to keep these precious habitats intact.
Kirsty Ferris, 20, a student who is also a Youth Ambassador and Volunteer Ranger for the National Park, said: "It's exciting to see the return of South Downs Youth Action which was very popular over the summer and we're expecting a similar level of interest this month.
"The beauty of these Youth Action Days is that they are all free and you don't need any experience – just a passion for the environment! They're during the college and uni holidays so are perfect for students looking for something a bit different to do during the half-term."
Daniel Greenwood, who develops volunteering opportunities for the National Park, added: "We know young people are passionate about nature and the environment, perhaps like never before in history. These free events give people a chance to get involved with the amazing range of activities happening in the South Downs National Park. We hope to see lots of young people getting involved!"
South Downs Youth Action is for anyone aged between 16 and 25 who is passionate about environmental action and is looking to learn practical skills to help conserve and enhance the South Downs National Park.
The full line-up of South Downs Youth Action
Monday, October 28
 11am – 3pm
Location: Ambersham Common, near Chichester, West Sussex
Activities: Pine pulling and woodland craft
Tuesday, October 29
 11am – 3pm
Location: Mill Hill, near Shoreham, West Sussex
Activities: Scrub clearance
Wednesday, October 30
 11am –  3pm
Truleigh Hill, near Shoreham and Brighton
Activities: Multimedia comms project
Thursday, October 31
 11am – 3pm
Location: Hooksway, near Chichester
Activities: Coppicing
Friday, November 1
 11am – 3pm
Location: St. Catherine's Hill, near Winchester
Activities: Scrub clearance