"Our family days-out inspired me to care for nature on my doorstep"
Her inspiration to volunteer came from a hilltop view.
With the innocent eyes of a child, Kirsty Ferris looked out across the skyline from Highdown Hill and saw a scene of stark contrast.
Conurbation met country…and dusky icons of industry were juxtaposed with the intense green expanse of the South Downs.
It was a profound view that stayed with Kirsty throughout her childhood and then inspired her to become a Volunteer Ranger for the South Downs National Park.
Kirsty is now loving helping to protect the beautiful wildlife-rich landscape, just a stone's throw from her home in Littlehampton.
And, for International Volunteer Day on December 5, the 20-year-old is encouraging other young people to get involved and do their bit to help the National Park, including the many "microvolunteering" opportunities such as a two-minute litter pick, tracking mammals or monitoring rights of way.
"I fell in love with the South Downs from those trips to Highdown Hill with my parents," says Kirsty, who has been a Volunteer Ranger since she was 18.
"You can see where the South Downs ends and the coastal plain with towns like Littlehampton and Worthing starts. It just shows how important it is to keep this natural space intact, both for people to enjoy and all the wildlife that depends on it."
Kirsty juggles being a student with volunteering for the National Park.
She smiles as she recalls just some of the variety of new skills she has acquired – how to put up a fence, use a scythe, and do a survey for dormice.
"I look forward to volunteer days as I come home every time feeling exhausted but happy," she explains.
"Having time to breathe in fresh air and knowing that I'm making a difference has also benefitted my mental health.
"During stressful exam periods volunteering has given me the chance to relax and think about something else."
To join the Volunteer Ranger Service, Kirsty underwent training that included learning about countryside management and conservation.
Every week, she has the opportunity to apply for tasks, including coppicing, building fencing, hedge laying, chalk grassland conservation, and improving public access.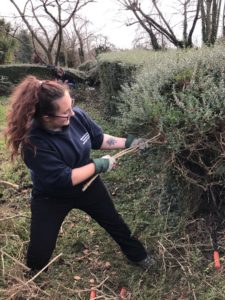 Kirsty loves the teamwork and collective impact – being one of 300 volunteers involved with the South Downs National Park Authority to conserve the special qualities of the area.
"Volunteering has meant that I can give something back to an area that has given me so many happy memories," adds Kirsty, who recently became a Youth Ambassador for the Volunteer Ranger Service and helps to gives talks to schools and community groups.
Taking the first step to caring for the National Park couldn't be simpler, says Kirsty.
"Just go out and experience it!" she says.
"I actually think the National Park is probably underused among my age group and it would be great to see more young people connected with nature.
"Ultimately, that's the only way we can save nature. By connecting with it, you can then care for it."
Kirsty's microvolunteering task:
The two-minute clean
Beach clean, litter pick or path clean, take part when out and about on a dog walk or on the way to work and help reduce the amount of litter dropped.
For more information visit www.walksaroundbritain.co.uk/pathclean