Ranger Kate Dziubinska recently took part in the National Park's Deadly Heathlands event and gives her account of the action-packed day.
On a frosty, windless morning as we set up for the day's event, an eerie screech could be heard at Chapel Common. Could it be ghouls and ghosts preparing for hallow's eve? Could it be witches flying overhead on broomsticks? No…t'was was the squeaky brakes of the portaloo van delivering our toilet for the day!
Wealden Heaths team ran a Heathlands Reunited 'deadly heathlands' event at Chapel Common, in West Sussex, to showcase the weird and wonderful species to be found there, as well as educating about the common's amazing cultural history.
There was broomstick making, spooky face painting and a treasure trail around the heath, as well as an Iron Age clan re-enacting their everyday activities and the Volunteer Ranger Service demonstrating modern heathland management with a good ol' scrub bash. The day went fantastically with a steady flow of families and dog walkers joining in with the activities throughout the day.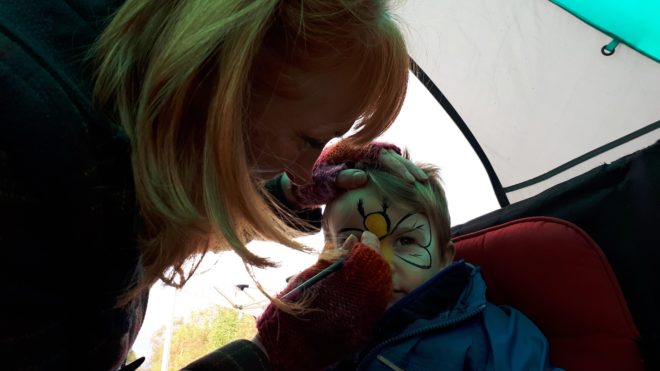 Thirty six brooms were made, 27 Iron Age bracelets were finger-woven and 35 faces painted. Our spread of Halloween themed sandwiches, fruit and sweet treats were gobbled up and the VRS even got eyeball cupcakes for tea-break. We definitely hit lucky with the weather and our treasure trail kept all warm and happy, but the showstopper had to be the rangers' fantastic species models that captivated everyone's imaginations.
All in all it was a successful heathland event and one that we hope to repeat next year. Thank you to everyone for coming!