Enjoying fresh air and walks this November
November 5, 2020
The South Downs is a beautiful place to explore at any time of the year, but there's something really special about enjoying a walk in the countryside in the autumn, with misty mornings and the crunch of frosted fallen leaves under your feet.
As we enter another national lockdown, there's plenty of space to walk, run and cycle safely in the great outdoors of the South Downs National Park while social distancing. Did you know the National Park has over 3,300km of rights of way?
Our advice is to prepare ahead and look to use your local green space for exercise and fresh air. See the full Government guidelines here: www.gov.uk/guidance/new-national-restrictions-from-5-november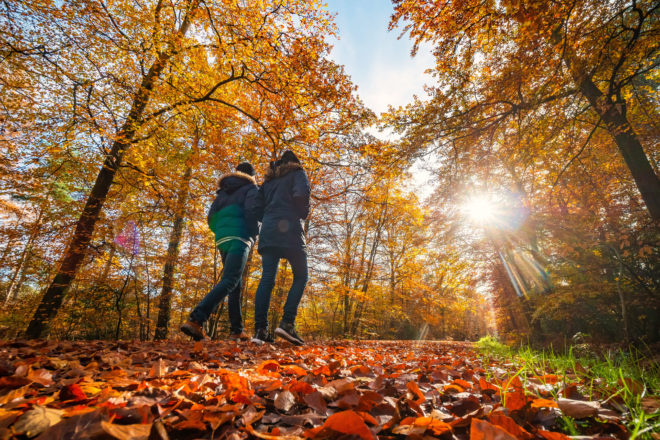 Allison Thorpe, Access and Recreation Lead for the National Park, said: "During the first lockdown earlier this year, the importance of having a National Park on the doorstep really came to the fore and many people found great comfort and uplift from walking in beautiful green spaces.
"A simple 30-minute walk can do wonders for your wellbeing and also give you a Vitamin D boost which is so needed during the darker winter months. This is also a particularly good time of year for a walk in the woods and to enjoy the benefits of "forest bathing".
"Our advice is to stick to the government guidelines of social distancing, plan your journey ahead, stick to the countryside code and avoid crowded areas. Please also bear in mind that some visitor facilities and toilets may be closed again during this period, so plan accordingly."
Here are some wonderful walks to inspire you:
 The Meon Valley Trail, Hampshire
Discover a trail that leads you through English history. Once a railway line running from Fareham to Alton transporting local livestock and agricultural produce, the trail now spans 11 miles through picturesque countryside, from West Meon in the north to Wickham in the south.
The trail is suitable for suitable for cyclists, walkers and horse riders (carriages are only permitted north of West Walk). There are no stiles along the way and as the gradient is mostly flat with a wide path, it's suitable for pushchairs and mobility scooters.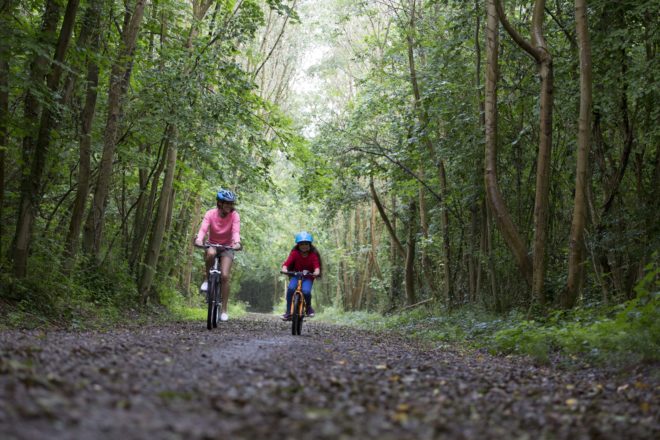 Alice Holt Forest, Hampshire
This serene royal forest in Hampshire is situated some 4 miles (6.4 km) south of Farnham, Surrey. Once predominantly an ancient oak forest, it was particularly noted in the 18th and 19th centuries for the timber it supplied for the building of ships for the Royal Navy. It's now planted mainly with conifers. The woods are ideal for just about everyone to enjoy some exercise, from a gentle family walk to a good long invigorating stroll.
Slindon Woods, West Sussex
Slindon Estate is 3,500 acres of Sussex woodland, farmland, and downland, all divided by paths, hedges, lanes and tracks. You can explore the estate by 25 miles of public footpaths and bridleways, as well as over 900 acres of open access woodland. Take in the long wide views down to the Weald, along the Downs, and out across the coastal plain to the sea.
Friston Forest, East Sussex
This expansive beech woodland makes a perfect family trip out for those who love exploring the countryside. With walking and cycling trails, great views of the Cuckmere and the sweeping South Downs, Friston Forest has something for everyone!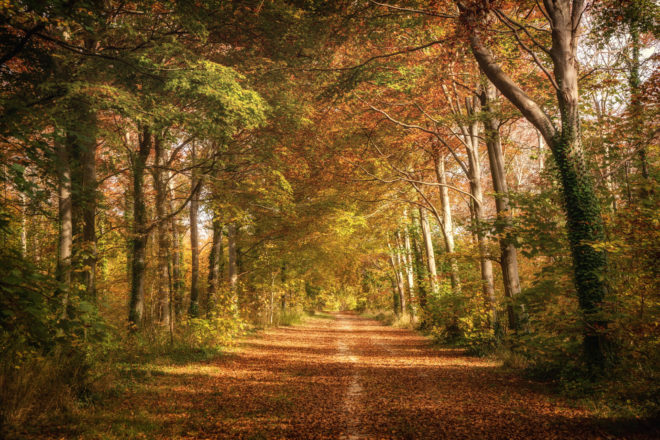 Stansted Forest, Hampshire/West Sussex
With 1,200 acres of ancient woodland and a patchwork of different ages of coppice, Stansted offers a subtly changing landscape that is a feast for the senses.
There are many footpaths and bridleways across the Stansted Park Estate, including the Sussex Border Path, offering opportunities to really soak up the calmness of the woods.
To find a walking route near you visit www.southdowns.gov.uk/get-active/on-foot/