Echoing the enchanting sound of the South Downs
A new audio walking experience is being launched next month that weaves together beautiful music by Sussex composer Ed Hughes and fascinating insights into the collection at Ditchling Museum of Art + Crafts.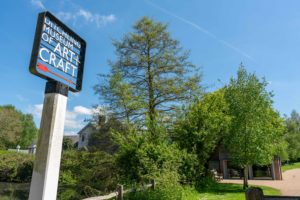 Launched as part of the Brighton Festival, people will be able to explore Ditchling and Ditchling Beacon accompanied by sonorous music inspired by the South Downs landscape.
The immersive experience will include linked images from the museum's collection which you can then discover after the museum reopens later in May.
The Brighton Festival Ditchling Museum Music Trail will be available for download on your phone from 1 May via the ECHOES interactive sound walk App (search for Brighton Festival in the App itself).
When you enter an Echo, Ed Hughes's orchestral music, inspired by the surrounding landscape, will be triggered automatically using GPS. Headphones are recommended!
There are two trail options and fourteen Echoes to discover: up Lodge Hill and back for stunning views (1 mile, gentle) or follow the Sussex Border Path and South Downs Way up to Ditchling Beacon and back through the fields (5 miles, strenuous).
We caught up with Ed Hughes and Steph Fuller, Director at the museum, to find out more about the inspiring initiative.
Tell us about this musical composition Ed – what were the influences for it?
I have lived in Lewes for the last 17 years and have grown to love walking the South Downs and exploring the footpaths and trails with my family. My wife Liz is a brilliant map reader and I must credit her with planning this walk. The sense of scale and the vistas offered by walks in this landscape are very special. It is a special place which offers walkers a sense of home through repetition and familiarity but with endless variations of light, shape and colours – which feels musical. In addition a couple of years ago I studied some Sussex folksongs transcribed by Butterworth in 1912, while working on a piece (Flint) for a fine Sussex ensemble 'The Corelli Ensemble'. Something of the lyrical sensibility in these songs have shaped the tunes, melodies and harmonies in my recent music. So this new composition is shaped by my personal experience of the South Downs and perhaps some of the songs and music associated with it.
What went into the making of this composition? Can you tell us about some of the musicians who were involved?
Since I first left university I have worked with my ensemble, the New Music Players. This band is my main "instrument" I think – the musicians are some of the most outstanding classical musicians working in the UK today. The final three 'echoes' on the walk comprise music commissioned by the South Downs National Park for its 10th anniversary and are included with their kind permission. To record this music, we brought the band together in a special socially distanced recording a few weeks ago, for the first time since lockdown. It was very exciting to hear the music jumping off the page and being interpreted and shaped by these great players.
What do you think of the composition and what story would you like it to tell? How would you like people to feel as they listen to it?
The composition ranges from very clear and transparent harmonious music through passages which are more dense and complex. I personally like to compare these musical effects to changes in light and weather as you walk through changing landscape, with changing perspectives around you. So although music is its own medium, because it is time-based, I think it can convey something of the feeling of being on a journey or a 'trail'.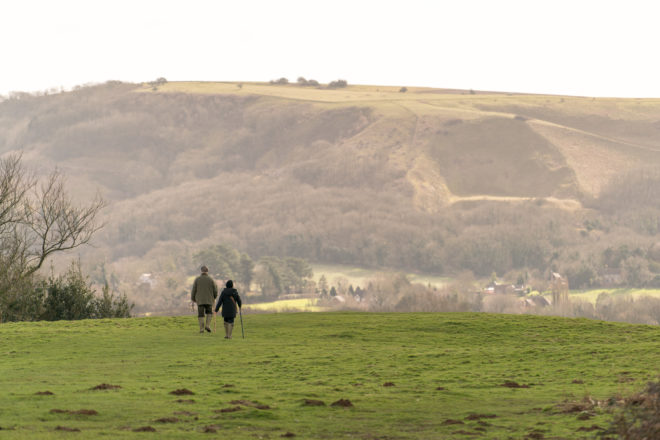 How does this sound walk compare to the Cuckmere sound walk you produced?
The Cuckmere sound walk reflected changing seasons and so, although nothing like Vivaldi, contained some musical effects that reflected winter as well as summer! In this walk we are aiming for more of a narrative or through line, and also the sense of discovering objects in the Ditchling museum's collection which, like the music, are complementary but don't duplicate the landscape which you're seeing directly while out on the trail.
What's the benefit of walking in the National Park while listening to classical music?
I hope the App will be seen as enjoyable and fun, both as a trail to 'discover' some new music and artistic objects from the museum's collections, and also perhaps to suggest a novel way of experiencing the Downs and thinking about how the landscape is reflected in art.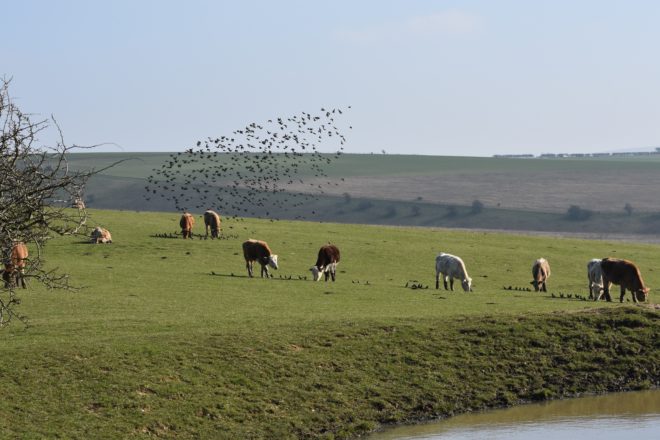 This is a great way to generate interest in the museum as it plans to re-open from 20 May. What do you think about it, Steph?
We are always looking for ways to encourage visitors to explore the village and surrounding area alongside visiting the museum, so a new audio walk with Ed's music is a wonderful addition to those opportunities.
It's been a joy to work with Ed Hughes and the South Downs National Park on this project.  The arts and nature have been a great solace to many people in recent times and this is a wonderful way to combine them in a fresh new way as we emerge from lockdown
Over 90 events, performance and installations make up the Brighton Festival this year. For more information see https://brightonfestival.org/whats-on/
Music by Ed Hughes, Prof of Composition at University of Sussex, played by the New Music Players https://edhughescomposer.com
Sound recording by Classical Media
Supported by research in the School of Media, Arts and Humanities at the University of Sussex and Echoes geolocated soundwalks