Doting owls, curious kestrels and cricket with 'personality' win South Downs photo contest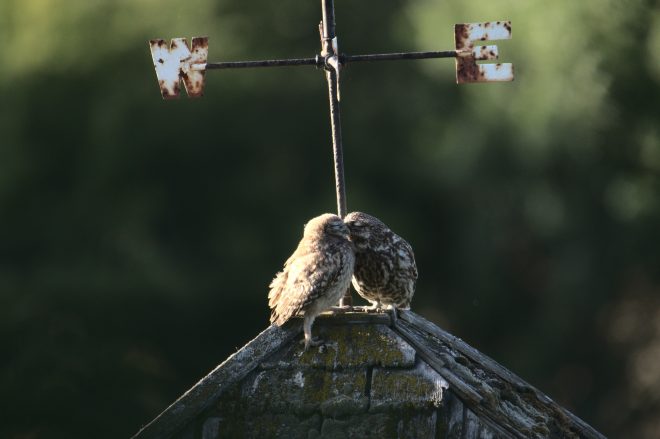 A heartwarming picture with references to Rudyard Kipling and showing the fatherly love of a Little Owl is the winner of the South Downs National Park's Annual Photo Competition.
"Little Owl Chick and Dad", by David Jeffery, took the top spot in the popular photography contest, which attracted over 500 entries this year.
With a competition theme of "Near and Far", the judging panel agreed the image was extraordinary and thought-provoking. Taken in Edburton in West Sussex, the photo shows a male Little Owl preening his young next to a weather vane showing west to east and spelling 'we'.
Meanwhile, the competition also included a separate category for best image taken with a mobile phone – with first place going to a dramatic photograph of a swan beating its wings on a frosty morning at Petersfield Heath.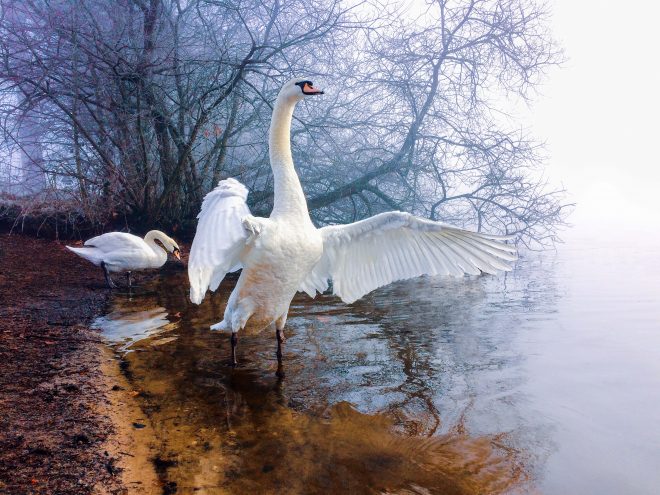 The competition judges were award-winning photographers Rachael Talibart, Finn Hopson, and Carlotta Luke, as well as Nick Heasman, Countryside Policy Manager for the South Downs National Park Authority, and Doug Jones, SDNPA Member. The theme centred around macrophotography that showed off the National Park in intricate detail, as well as images capturing the size and scale of the South Downs. Images could also incorporate both "near and far" elements.
Nick said: "I like the east and west theme and it's very fitting for the South Downs, which is such a long National Park and changes so much from east to west. I'm also reminded of the great poet Rudyard Kipling who adored the South Downs and wrote of them 'running' from east to west. The photograph is out of the ordinary and something we haven't seen before."
Finn said: "I like the softness of this image. I also love the fact it spells 'we' – it's very heartwarming."
Carlotta said: "This is such a quirky image – I love it and it's perfect for the brief. I love the colours and it looks particularly good in print."
Rudyard Kipling started his poem "Run of the Downs" with: The Weald is good, the Downs are best – I'll give you the run of 'em, East to West.
Photographer David, who lives in Portslade, East Sussex and picks up a £250 prize, said: "I'm proud of the photographs I take but getting recognition is always a special moment.
"I always love seeing natural behaviour when out photographing wildlife, but to see dad and his chick being so comfortable with my presence was especially rewarding. I've spent a lot of time over the past few years with this pair of little owls, but never had much luck photographing any chicks, so it was exciting to finally get some shots I'm happy with."
The runner-up prize went to "Hello World", by Carl Gough, which captures two juvenile kestrels taking their first look at the world before fledging from their hollowed tree nesting site.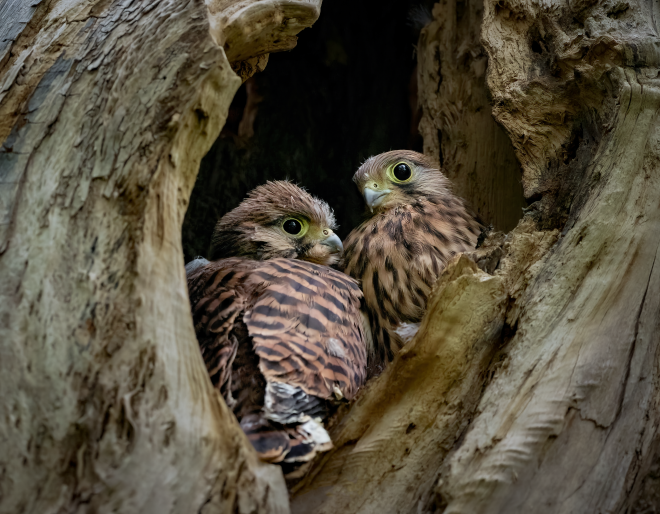 Rachael said: "Kestrels are just the most majestic animal – doesn't matter how often you see them. I love this image. The composition and framing is fantastic. It looks like we've had a secret view into their world."
Finn said: "You don't often get to see kestrels as up close as this."
Photographer Carl, who hails from Littlehampton in West Sussex and wins £150, said: "The day the photo was taken I had just got back from work when a local farmer I've been friendly with 'due to our mutual love of nature' texted me to say he will be mowing. This is a really good time to capture red kites as they tend to follow the tractor around. So, I grabbed my camera and headed out. I was watching on from outside his land as he mowed, and although the red kites did show, it was fleeting, and they remained high. So, I decided to go for a wander. I knew of a tree not too far away I felt would be an excellent candidate as a nesting site. So thought I would check it out as it was now springtime. On arrival I couldn't believe my luck, as sure enough a juvenile kestrel was perched at the entrance with mum looking on from an adjacent tree, I knew my presence would disturb them so I backed away and made myself a little more conspicuous. That's when it happened, I once again put my gaze back on the nest and to my delight, a sibling had joined and was also perched at the entrance to the nest. I honestly couldn't believe my luck!"
Taking third place was Thomas Moore's "Look Down", a glorious shot of a cricket at RSPB Pulborough Brooks.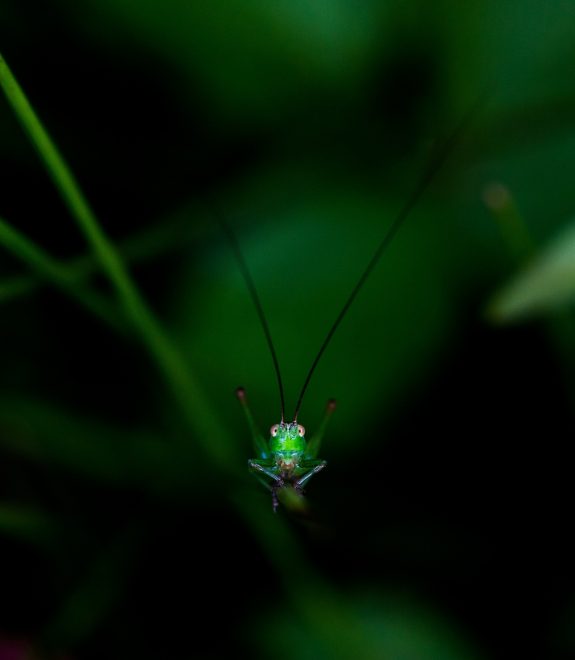 Finn said: "I like this image because it really has some personality. It's technically very good."
Doug said: "The length of the antennae is amazing. I like the message of this image about 'looking down'. The South Downs is teeming with life, but you very often have to look down and see what's there, such as all the invertebrates and flowers, to appreciate how biodiverse it is."
Winning a £75 prize, Thomas, from Slindon, West Sussex, said: "I was out looking for dragonflies and damselflies but a movement in the grasses below me caught my eye where I saw a cricket staring back. There was very little light between the grasses, but just enough to allow me to get a portrait shot looking down."
"Swan at Petersfield Heath Pond on a frosty morning" wins photographer Christopher Pearson a prize of £75.
Carlotta laughed: "I love it, but I would be terrified if I was the photographer! The detail in the image is amazing."
Rachael said: "The near and far is really there in this image with the swan at the front, the swan behind and all the detail of the tree in the background."
Christopher, from Waterlooville, Hampshire, said: "I've had so many great photo walks in this National Park and I rarely need go further afield for photography. It has all I could ever want to capture."
Several images were highly commended by the judges. In the main category they included "Solar Eclipse at the Chattri", by Michael Harris, which poignantly captures the memorial that honours the Indian soldiers who came from afar and lost their lives in the First World War. An atmospheric shot called "Meon Valley Mist", by Simon Newman, and a stunning fungi image, "Saffron Drop Bonnet", by Rob Aro, were also given praise by the judges. In the mobile phone category the highly-commended photos were: "Sun Kissed" by Stuart Webb; "Paragliders at Bo Peep" by Frances Valdes; and "Chalk cliffs of Lewes" by Taylor Bell.
All the winning and commended images, as well as other shortlisted images, will now be put forward to the People's Choice. People will be able to vote online from Monday, 9 January for their favourite photograph and the winning photographer will receive £75. The online poll closes at midnight on 31 January.
Cast your vote in the People's Choice!
All the winners and highly-commended images are below: