The clean air of the South Downs – and how to keep it that way!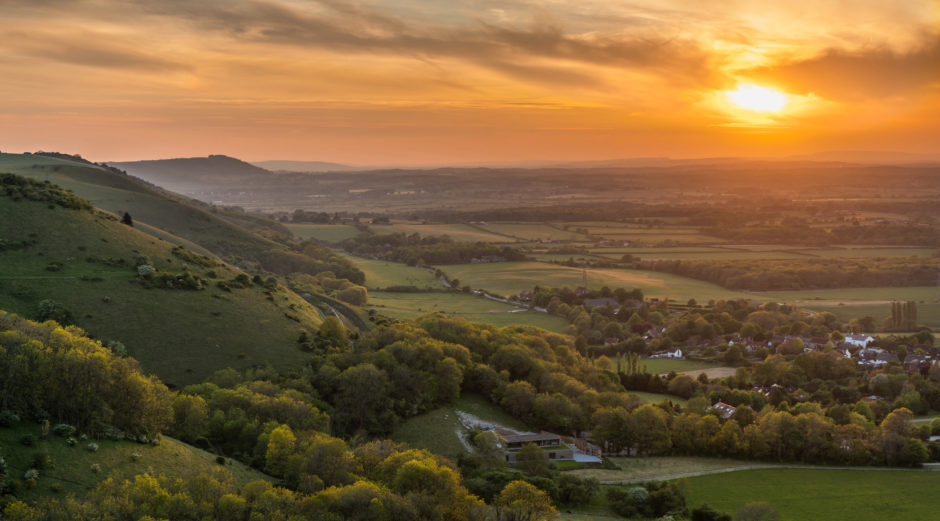 It's often said National Parks are Britain's green lungs.
One only has to take a deep breath in the South Downs to appreciate just how beautifully clean our air is.
And, with over two million people living in or within three miles of the National Park, and even more in neighbouring towns and cities, it's a natural health resource that is becoming more important than ever.
While national and local government have done much in recent years to reduce harmful levels of air pollution in our towns and cities, many urban areas are still at the limit of what is considered safe.
So the South Downs provides a vital and welcome escape to the countryside for millions of us – not only for the amazing views, but also the pristine air!
But that doesn't mean there aren't challenges in keeping the air clean – for us to enjoy as well as future generations.
When it comes to visiting and enjoying the National Park, we can do one big thing to help reduce our environmental impact and to help keep our air as clean as possible – consider sustainable travel.
Compared with other National Parks, the South Downs is well serviced by public transport and also by 'town to trail' footpaths and bridleways, allowing many people to safely access the National Park either by foot or bike.
So, before jumping in the car for your next day-out, here's a few ideas:
Grab your Discovery Bus ticket
When it comes to soaking up the landscape by bus, the South Downs Discovery Ticket offers unlimited travel across the South Downs National Park and beyond in the South of England by bus.
The Discovery Ticket is issued and accepted by a number of bus operators in West Sussex, East Sussex, Brighton and Hove, East Hampshire, Surrey, Kent and Medway. A family day ticket for up to 5 people costs just £17.50, with individual adult tickets costing £9.00 and a child's ticket costing £7.20.
For full details, check this link.
'Train to trail'
The South Downs' proximity to London and the South Coast make it extremely easy to get reach by train.
Regular trains from Waterloo and Victoria take between 60–90 minutes to get to stations such as Winchester and Lewes which are gateways to the National Park. Catch a train in to the heart of the South Downs and start a walk directly from Amberley in the Arun Valley, Southease in the Ouse Valley or Liss in Hampshire.
For the adventurous, try the 22 mile route between Devil's Dyke and Amberley along the South Downs Way. Grab a train to Brighton before catching a Breeze Bus up to Devil's Dyke, follow the trail all the way to Amberley and then jump on a train back to London Victoria! If you want extra encouragement, there are plenty of pubs in Amberley near the train station, so feel free to enjoy a sundowner before heading home.
Car free walks and rides
With many people living less than 4 miles away from the South Downs, walking or cycling into the National Park is super easy.
From any number of towns and cities around the National Park, there are public footpaths and bridleways that will take you from the town centre and into the National Park, meaning you can leave the car at home.
For those living in Brighton and Hove, there are a number of footpaths that can take you from your front door and straight onto the South Downs Way. For a full list of trail guides covering the east and west of Brighton and Hove, check out the City Council website.
Worthing also benefits as a doorway into the National Park. From a number of locations, including Hill Barn Lane, visitors can follow the public footpath up to Cissbury Ring, before cutting across the South Downs Way towards Chanctonbury Ring.
If in Shoreham, follow the Arun River path from the Ropetackle Centre and head towards Steyning. Either enjoy a 'there and back' walk or, once at the bridge crossing, take the South Downs Way west towards Amberley or east towards Devil's Dyke.
The Centurion Way is a 5.5 mile route that connects Chichester to West Dean, following the dismantled railway line between Chichester and Midhurst. This scenic walk will take you from the centre of Chichester out into the South Downs National Park.
With so many sustainable transport options available, we can all make a positive choice when out and enjoying the National Park.
Quick Links
Learn, Enjoy & Care For
National Park Authority
Planning