Cherry Soup show captivates audiences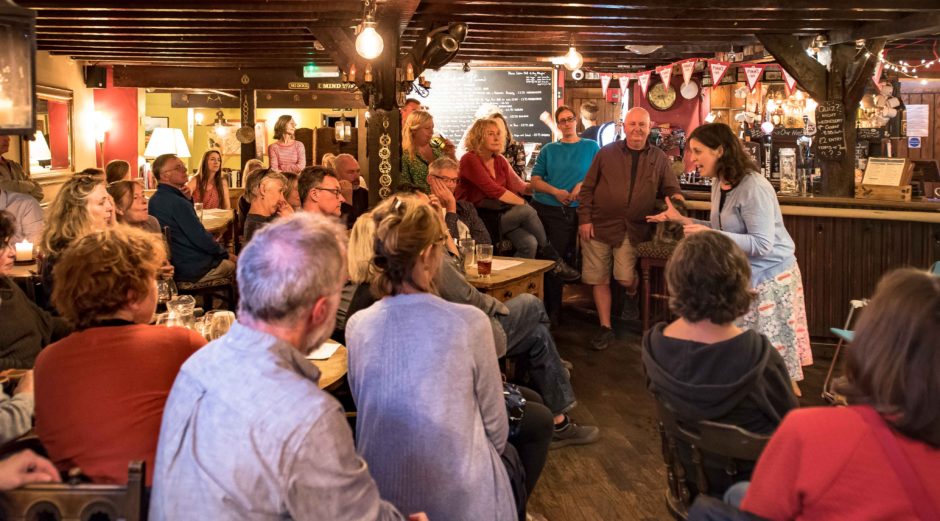 Sweet, sour, a little unexpected – and what good writing does best.
That was the verdict from audiences who were enthralled by the quirky and thought-provoking show Cherry Soup – True, and not so true, tales of the South Downs.
The show, written by Lewes-based playwright Sara Clifford, explored the changing landscapes and populations of the National Park – as well as how the history of cherries (blame the Romans for bringing the fruit to these shores) is also the history of Southern England!
The performance was the result of a labour of love by Sara, the Inn Crowd and South Downs Writer in Residence for 2019. Sara spent the Spring chatting to over 500 people across the National Park and gathering their stories, anecdotes, poems and ideas. These were weaved together into a one person show, Cherry Soup, and performed at nine different pub and community venues across the region during September by local actor and comedian Jo Neary.  Directing the show was Sara, supported by Kirstie Davis.
The premise of the performance was a cherry seller sitting by the side of the road and people stopping by to buy fruit and chat. They tell their stories: of ancient farms and modern fetes; of lost skills and identities; of overgrown orchards and the ghosts of the villages – and bring new stories, different ideas and different cultures.
One review read: "Each small history was so beautifully crafted, so rich. Magic carpet stuff.  The woman who couldn't stop walking…this is what good writing does best, allow us to experience something without being instructed how to do it."
Following the shows, Jo said: "It was great fun performing at unusual venues. The audience members were very friendly, one lady said it lifted her spirits to have a laugh and bought me a box of chocolates! Quite a few people asked how I remembered all those words and others said that they'd no idea what they were coming to see, and were pleasantly surprised by the show. I thanked them for taking a chance on us. One of the funniest comments was from an audience member at the very first show – when I told the audience I have cherry soup in my flask, he shouted out what he has in his = 'Strongbow!'"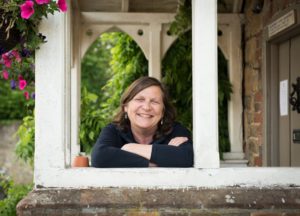 Sara added: "This has been the most wonderful project to work on – not only have I had the privilege of meeting a wide range of people of all ages right across the Park, and hear their stories and thoughts,  but I also got to work with other talented artists exploring people's responses through creative writing, visual art, music and drama – and that was just the outreach stage!
"It was a challenge to crunch down nearly three hundred people's responses into a one person show, but I was very pleased with the result, creating a montage of characters and evoking the beauty of the Downs and its history  – and Jo Neary has been an amazing performer to work with, really bringing the cherry seller to life.
"Audience responses have been fantastic, and we are hoping that the show will have a further life next year – watch this space!"
Sara became the Writer in Residence for the National Park earlier this year in a partnership with Inn Crowd, which is supported by Arts Council England and is managed by Applause Rural Touring.
Inn Crowd offers pub landlords spoken word inspired performances that have been created specifically for pub audiences and to the unique atmosphere and setting of a pub.
Quick Links
Learn, Enjoy & Care For
National Park Authority
Planning