Celebrating still wines of the South Downs
Across the South Downs National Park, locals and visitors can enjoy some of England's finest sparkling and white wines produced by award-winning, local vineyards nestled into the stunning landscapes of England's newest National Park.
The vineyards owe their success and inspiration to the chalky soils and fine climate providing a unique 'flavour of the South Downs'.  In fact, grapes have been growing in the area, which is very similar to the Champagne region in France, since Roman times.
Whilst English producers have secured international recognition for the quality of its sparkling wine, English still wine is finally being taken seriously.
Growing any sort of vine in England isn't easy but, one of the benefits of producing sparkling wine is not needing fully ripe grapes. Under ripe grapes often means less alcohol because the grape yeasts have less sugar to digest duration fermentation.
With still wine, producers have no such leeway, making the task of producing still wine year on year a difficult endeavor.
However, the combination of site selection, planting varietals suited to cool climates and longer, drier summers as a result of climate change has ushered in a sea change, with more producers turning their hand towards still wine.
Stopham Vineyard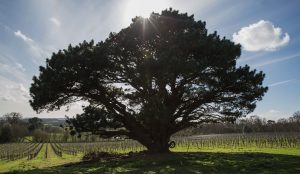 Stopham Vineyard and winery are self-described "still wine specialists" producing award-winng still whites predominantly from Pinot Gris, Pinot Blanc and Bacchus (aka England's answer to sauvignon blanc) grape varieties.
These are grapes traditionally grown in northern Germany and also France's northerly wine regions, Champagne and Alsace.
Wolstonbury Vineyard
Situated a stone's throw away from the Jack and Jill Windmills, Wolstonbury Vineyard is a relatively new arrival on the English wine scene.
Proud of their connection to the chalk landscape, Wolstonbury produce Bacchus-led still blends to compliment their sparkling wine offering.
As a grape, Bacchus is ideally suited to the UK's climate. It was originally created back in 1933 in Germany as a hardy hybrid grape variety by viticulturalist Peter Morio. Shunned by more traditional wine-making countries, it has found its place in England. 
Albourne Estate
Whilst technically not in the South Downs National Park (the village sits on the boundary), the Albourne Estate shares its birthday with the National Park, both being founded and created in 2010.
Since their inception, Albourne have been still wine pioneers, producing white, red and rosé still wine on a consistent basis from a mix of varietals, including Bacchus, Pinot Gris, Pinot Blanc, Chardonnay, Pinot Noir and lesser known grapes like Ortega and Dornfelder.
Albourne Estate are also pioneers when it comes to sustainability, with an admirable goal of becoming carbon neutral, a feat achieved in 2020 when it achieved a negative carbon balance, offsetting more carbon than it produced.
Rathfinny Estate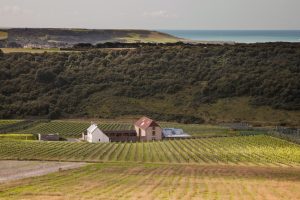 Established at the same time as the South Downs National Park, Rathfinny Estate in Alfriston, East Sussex is one of the largest wine estates in England.
They're passionate not only about creating world-class wine but also about caring for the South Downs landscape in which the vineyard and winery sits.
Whilst 'Sussex Sparkling' made from the traditional Champagne varieties (Pinot Noir, Pinot Meunier and Chardonnay) reigns supreme, Rathfinny have also tried their hand at still wine, producing a red, white and rosé under their Cradle Valley label.