Campaign to fix broken South Downs Way trail reaches 60% of target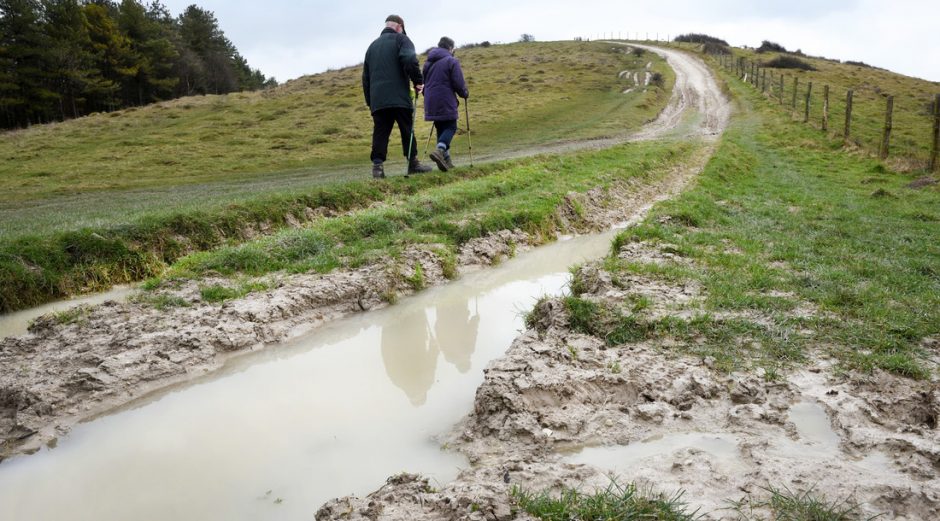 A campaign to raise £120,000 to carry out much-needed improvements on the South Downs Way has reached more than 60 per cent of its target with six months, and the main summer walking season, still to go.
More than £75,000 has been donated to 'Mend our Way', a campaign led by the South Downs National Park Trust, asking people who've enjoyed the South Downs Way to support significant repair work on four broken sections of the national trail.
Find out more and pledge your support at www.southdowns.gov.uk/mendourway
Andy Gattiker, who manages the South Downs Way, said:
"Thank you so much, we are blown away by your generosity! The cold, wet winter has taken its toll on the damaged sections but because of your love for the South Downs Way we're more than 60% towards our target – and being able to carry out these much-needed improvements.
"With the warmer weather and bank holidays ahead we're looking forward to seeing more people enjoying walking, cycling or riding the trail. It's an amazing resource and, if you love the South Downs Way, please consider supporting our campaign."
More than 20,000 long-distance walkers, cyclists and riders complete the 160km South Downs Way National Trail every year and many millions more explore a section of it which causes a lot of wear and tear. Existing funding allows the National Park Authority to make most repairs but there are four significant projects which can't be tackled using existing funds. Each year, as the erosion gets worse, they become harder to fix.
The 'Mend our Way' campaign is being run by the South Downs National Park Trust, a new charity which works with partners to protect the National Park for future generations. The charity is supported by the National Park Authority who will cover the Trust's core costs for the first three years, meaning all funds raised can be focused on important projects within the National Park.
What needs to be done?
Inglorious mud! Old Winchester Hill is a scheduled ancient monument with an Iron Age Hill Fort, a Bronze Age cemetery and is also a National Nature Reserve. No wonder that it's one of the most iconic hills in the National Park. But the route up to it becomes a slippery kilometre of boot-churned mud every winter. Being inaccessible to machinery and vehicles makes it a great place to be (when it's dry) but almost impossible to fix. We need £50,000 to get scrape away the mud and replace the surface with stones.
Remote location seeks sensitive scar repairs. For one of the most remote sites on the South Downs Way Millpond Bottom, between Beacon Hill and Penn Hill, has some impressive scaring. Successive feet, wheels and hooves have more than doubled the width of the chalk track – putting nearby sensitive Scheduled Ancient Monuments at risk. We need £10,000 to safely transport materials to the site, mend the trail and keep walkers on the straight and narrow.
Paying the price of popularity. More than 80,000 people walk the high Plumpton Plain track between Ditchling Beacon and the market town of Lewes every year and although it's 200m above the sea, the path is flat so surface water is a big problem. At more than 1km long and at least 3m wide, we need £25,000 to repair, strengthen and add drainage so the path can continue to give joy to thousands of people.
Water water everywhere. Hyden Lane near Butser Hill sits on top of the chalk ridge but suffers from a lack of drainage. As large puddles get trapped on the busy track the surface breaks up and becomes muddy. It will take £35,000 to fix 1.6km of the track – replacing the existing surface with new layers and creating a camber to help it drain.
'Mend our Way' is part of the national 'Make a Million' initiative, run by the British Mountaineering Council, which seeks to raise £1,000,000 for some of the UK's most treasured trails. Find out more at mendmountains.thebmc.co.uk
Quick Links
Learn, Enjoy & Care For
National Park Authority
Planning