Blooming marvellous! Huge habitat creation for bees in National Park
May 18, 2023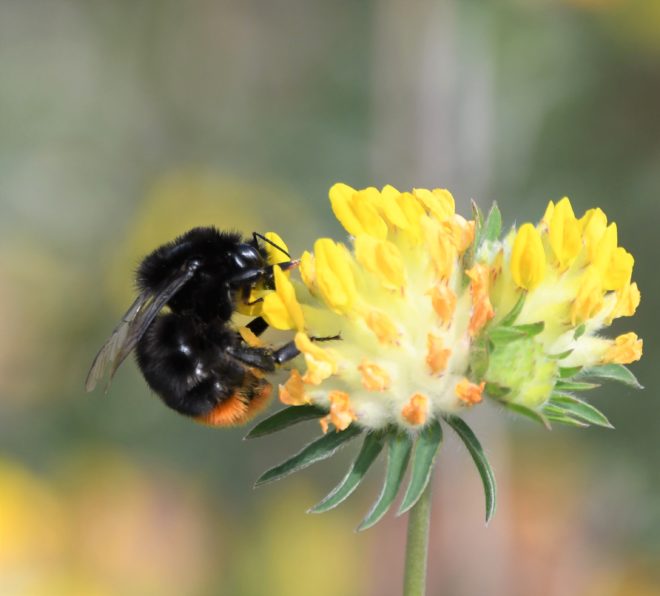 More than 66 hectares – or 163 football pitches – of lush wildflower habitat have been created in the South Downs National Park to help bees flourish.
As the National Park marks World Bee Day (20 May), the Bee Lines initiative continues to give a helping hand to struggling pollinator populations by creating wildflower havens at farms, community fields, recreation grounds, road verges, schools, and even cemeteries and golf clubs.
Early ecological data shows that the wildflower planting is helping bees and butterflies bounce back.
It comes after Bee Lines launched exactly four years ago to create a new network of wildflower corridors to help support bees and other pollinators. These insects have been on a steep decline across the UK for several decades and are now under threat from climate change.
New planting effectively creates a "road system" for pollinating insects, allowing them to move through the landscape more easily.
Eighteen projects across Hampshire and Sussex have so far benefitted from a share of almost £95,000 of funding from the South Downs National Park Trust, the official independent charity for the National Park.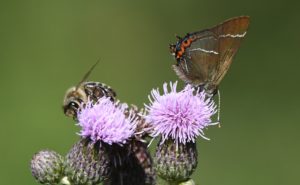 Nick Heasman, a Countryside Policy Manager for the South Downs National Park who has been helping to lead Bee Lines, said: "It's blooming marvellous that thanks to all the donations from the public we've been able to create these new havens for pollinators.
"Bees are busy ecosystem engineers and by pollinating flowers they create food for other wildlife and, of course, humans. In fact, one out of every three mouthfuls of our food depends on pollinators such as bees.
"Bee Lines is just one strand of the National Park's ReNature campaign and it's incredibly exciting to see nature recovery in action."
Prince's Mead School in Winchester has been one of the beneficiaries of the funding (see full list below) and, two years on from the planting, a large section of the school grounds is now well-established wildflower meadow.
School bursar Poppy Hughes said: "The children clearly gain a huge amount of educational value from spending time making observations of the flowers and pollinating insects. We have without a doubt seen an enormous increase in biodiversity resulting from the new meadow as the children have identified snails, mice, buzzard as well as many species of butterflies and bees. In addition to raising children's awareness of the importance of pollinating insects in the food chain, the wildflower meadow is also a wonderful source of peace, beauty and tranquillity."
Sophie Green, of Dales Farm, Northchapel, West Sussex, said: "Our wildflower plantings are situated in the field where our shepherds hut rentals are and we've had so many compliments and amazing feedback from guests about how lovely it is.  We actively encourage little bug hunters, which has been lovely for the children staying in the huts.  We are looking forward to seeing how well everything comes back this year and have plans to establish further areas of plantings in the field this autumn."
To donate visit www.southdownstrust.org.uk/beelines/
Anyone interested in future rounds of Bee Lines funding should contact Victoria Crespi at grants@southdowns.gov.uk to be put on the notification list.
Plant conservation charity Plantlife is supporting the project by providing landowners with advice on establishing and enhancing wildflower habitats.
The full list of projects so far (all at various stages of development):
Princes Mead School Kings Worthy, Hampshire
Ten sites in the Selborne Landscape Partnership, Hampshire
Northchapel, West Sussex
Truleigh Hill, near Shoreham, West Sussex
Lancing College, West Sussex
Chanctonbury, Wiston, Steyning, West Sussex
Lewes Cemetery, East Sussex
Sompting, West Sussex
Botany Bay Community Interest Group Bee Bank, Lavington Park
Corhampton Golf Club, Hampshire
Alciston Court Farm, near Polegate, West Sussex
TECT Community Field, Chapel Lane, East Chiltington, East Sussex
Barn Field, Selborne, Hampshire
Buriton Recreation Ground, Hampshire
Piddinghoe Wildflower Meadows, Piddinghoe, East Sussex
Catersland Wildflower Meadow, Chichester, West Sussex 
Get Blacknest Buzzing, Blacknest Fields, Blacknest, near Bordon, Hampshire
Cissbury Fields, Findon Valley, Worthing, West Sussex