Beauty of South Downs National Park inspires colourful exhibition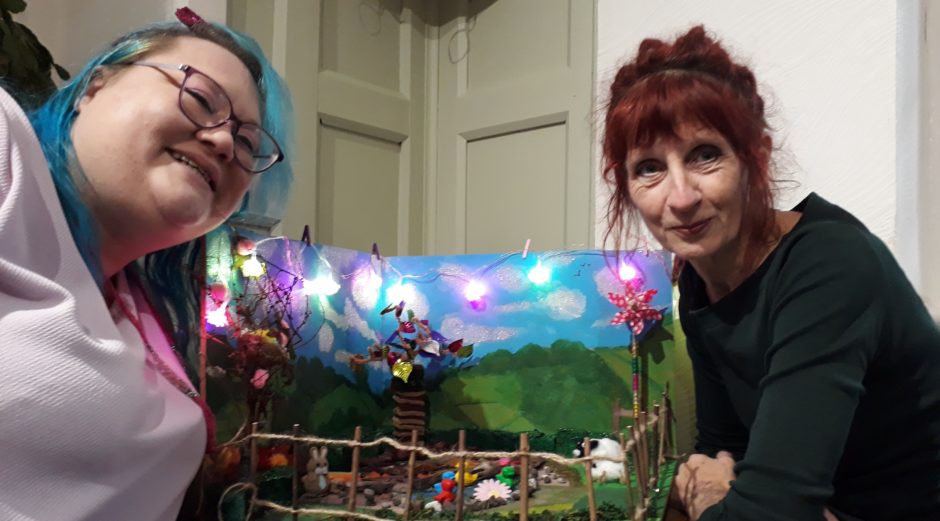 "The National Park is paradise"
Those were the poignant words from people who have taken part in a new arts project that aims to boost mental health by immersing yourself in the South Downs landscape.
The budding artists' array of colourful artwork and sculptures were displayed at Merchistoun Hall, in Horndean, Hampshire.
It came after the South Downs National Park Authority teamed up with the charity Artscape to connect people, who would not ordinarily access the National Park, to the stunning landscape on their doorstep.
Artscape, which works across Hampshire, helps improve the lives of anyone who faces isolation through poor health or circumstance by using the creative power of art.
The project recruited participants from Horndean, Waterlooville, Havant and Petersfield and the groups made three visits to the top of Butser Hill to get inspiration for their pieces.
Alison Jackson spent 97 hours creating her intricate fabric masterpiece, inspired by a photograph she took of hang gliders while at the top of Butser Hill.
"I used 37 different types of fabric to make the picture," said Alison, who lives in Havant.
"I've absolutely loved this experience. Going up there and being able to be in the National Park – it's so calm and relaxing.
"I hadn't been up there since I was a child, even though I'm local. I've now been up to the South Downs half a dozen times since."
Alison also made two birds, a linnet and wheatear, out of felt.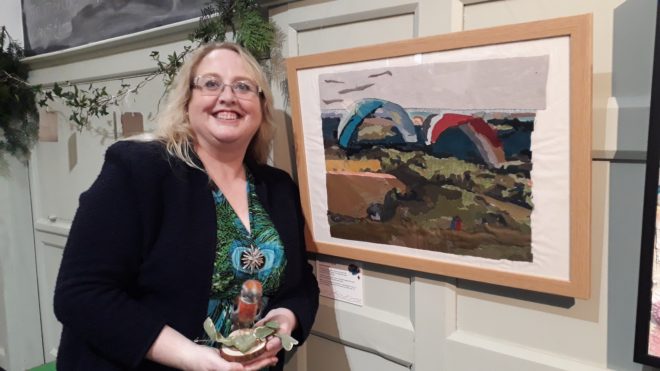 She smiled: "I called my birds 'Birds in Paradise' because I really think Butser Hill is paradise."
Artscape artist Mandie Molyneux said: "The charity is about helping people who are socially isolated because of health circumstance which can affect anyone at any time in their life.Another participant, who used sequins and cotton wool to create her piece "Reality Becomes Fantasy", added: "The National Park is so needed. It makes people breathe for a minute and appreciate the beauty of the natural world."
"These kind of projects are great at raising self-esteem and confidence.
"Art can help mental health because of what I call 'forgetfulness of self'. It's about coming along and getting really involved in a piece of work. Over time, it gives you respite from any issues you might be dealing with."
Andrew Lee, Director of Countryside Policy at the South Downs National Park Authority and who opened the exhibition, said: "The artwork is really wonderful and all the artists should be very proud of their work. I like how each artist has come back with something completely different, demonstrating how everyone will have a different interpretation of the landscape.
"This pilot project with Artscape has been a great success and we're keen to look at further opportunities to promote the mental health benefits of the National Park."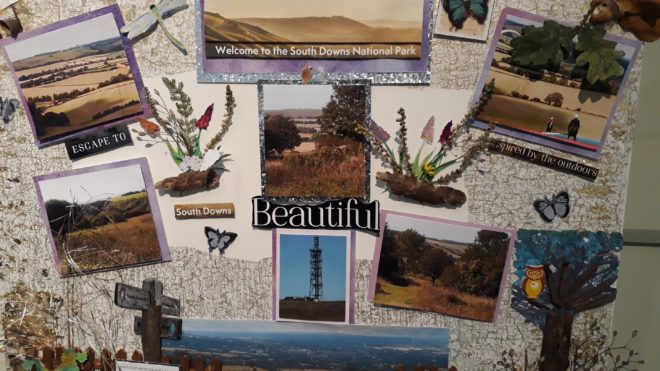 Quick Links
Learn, Enjoy & Care For
National Park Authority
Planning