A summer of exciting adventures on our South Downs heaths
Heathlands are known for their radiant purple heathers that shimmer in the late summer sun, but there's also an abundance of animals that make their home in this incredible habitat.
Now a series of free guided walks are being put on this summer for people to discover the mysterious wildlife of lowland heaths in the South Downs.
The bookable walks are being led by the Heathlands Reunited engagement rangers.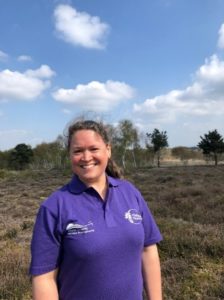 Elinor Newman, an Engagement Officer for Heathlands Reunited, said: "This time of year our lowland heath is buzzing with life, but it's not always that obvious to spot to the untrained eye.
"From evening walks listening out for the iconic churring sound of the nightjar, to finding out more about bats, or discovering more about medicinal plants that grow on our heaths, there's something for everyone!
"This is a lovely opportunity to get out in the fresh air and experience the beauty of our heaths and learn lots along the way. Well-behaved dogs on leads are very welcome of course!"
A highlight of the summer will be Heath Week, from 26 July to 31 July, when the Heathlands Reunited team and partners are joining the nationwide celebration of heathland with a range of fun activities.
Elinor added: "Each day we're focusing on a different heathland in our area, and a different theme, from exploring the weird and wonderful heathland wildlife, to the incredible history of the heathlands, to engaging with this unique landscape through crafts, storytelling, and mindfulness. Everyone is welcome, but do make sure to pre-book your spot!"