Walk this way – two sisters make epic journey to Seven Sisters
July 11, 2022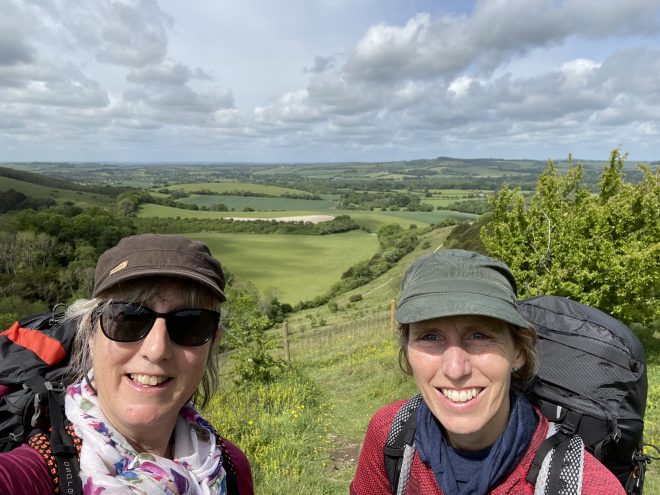 Charlie Hellewell and her sister Miranda Bassett recently completed a long-held ambition of walking the South Downs Way. Here Charlie gives her account of a sisterly adventure she'll never forget.
Springtime is a perfect time to walk the South Downs Way. The weather is generally kind and the days are full of light. I've worked at the South Downs National Park for six years and have always intended to walk the length of the SDW. Being a linear route means being organised with public transport or lifts to complete short sections, so in some ways it seemed easier to just keep going!
By immersing myself in the trail as a walker, I hoped not only to complete it, but to enjoy the sights and sounds of the surrounding natural world.
Persuading my sister Mirry to join me was easy. She is always up for a challenge and only a few years ago we cycled from London to Paris on a charity ride. Suddenly we had a date and got down to planning our route. We would stay in B&Bs and travel as light as possible. The path tends to follow the top of the downs but most of the accommodation is in the villages or settlements at the base of the hills. Therefore, there will always be extra mileage leaving and rejoining the trail.
Day 1 – Winchester to West Meon 16.8 miles
Day one saw us start at the Winchester City Mill, heading out of this ancient cathedral city in gently falling rain. Once we crossed the footbridge over the motorway the route became more familiar, passing through the charming village of Chilcombe on our way to Cheesefoot Head and beyond.
The sun finally made a welcome appearance and our route followed chalky paths to the familiar soundscape of skylarks, yellowhammers and swooping swallows.
From the top of Beacon Hill we could see the chalk ridge stretching away to the east. It was downhill from here to the village of Exton where we bypassed the usual favourite of the Shoe Inn to follow the seemingly never ending Meon Valley Trail, a former railway line, now a multi-user path, to the pretty village of West Meon and our accommodation for the night.
Day 2 – West Meon to Buriton 16.3 miles
It was a harder day today. Walking distance isn't a problem but when you're carrying a pack, it suddenly becomes more challenging. A decent sleep at our B&B meant we felt refreshed and ready to climb back to the SDW at Old Winchester Hill!
Then it was down to Meon Springs before a long ascent up to Butser Hill – the highest point on the South Downs Way at 270m. We could see the sun shining on the Solent from the top, over to the Isle of Wight and Hayling Island. With leaden legs we headed down the steep side of Butser, glad we weren't heading uphill like the DofE groups collapsed and eating snacks half way up!
Day 3 – Buriton to Cocking 12.4 miles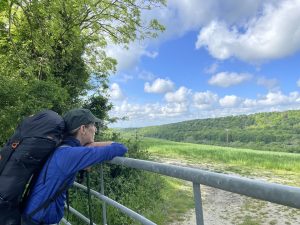 We left our B&B armed with a packed lunch from our host, and climbed steeply out of Buriton through the old chalk pit nature reserve to get back to the SDW.
A steady stream of runners and cyclists passed us going both ways, with it seemingly being a busy section of the Way. We passed beautiful stretches of fields with wildflowers bursting to life.  Harting Down appeared through the trees and a stunning view to the north of the classic English patchwork field system rolling away into the distance towards Black Down, the highest point in the National Park.
Day 4 – Cocking to Amberley 14.7 miles
The first thing we noticed today was the quiet. We hardly met a soul, partly due to it being Monday and partly to it being a less travelled section. The first person we did meet was Chloe, one of our lovely National Park rangers in a Land Rover, who had come to Graffham Down to take part in a dormouse survey. So good to have a cheerful chat with Chloe! We were also pleased to later hear a cuckoo as we crossed the river Arun to Amberley.
Day 5 – Amberley to Poynings 20 miles
A longer day of walking today but we were getting used to it. As we approached the spooky location of Chanctonbury Hill, known for its folklore and tales of weird happenings, the thunder started rumbling and the skies opened. We were soaked! Legend has it that Chanctonbury Ring was created by the piles of earth created when Satan was digging Devil's Dyke.
Day 6 – Poynings to Lewes 14.5 miles
The skylarks were still in full song the next day, despite the blustery conditions.  Ditchling Beacon, the highest point of the SDW in Sussex, was obviously exposed, so we hugged any bushes we could find for protection. It was interesting to find some dew ponds as we walked, surrounded by windswept trees.
Dew ponds have been used for hundreds of years by farmers to water livestock at the top of hills. Usually clay lined, they were an essential part of farming life on the chalk ridge.
Day 7 – Lewes to West Firle 11.8 miles
Leaving Lewes to re-join the SDW we met a cheery American hiker 'from the Pacific North West' coming down off the ridge. She was lucky enough to be in Kingston visiting her daughter and was fascinated that we were doing the whole of the Way. Today in the sunshine, we had great views from the ridge, looking down to our left at the village of Rodmell where the Bloomsbury writer Virginia Woolf once lived at Monk's House.
Day 8 – West Firle to Alfriston, then on to Eastbourne via Exceat and Seven Sisters 19.6 miles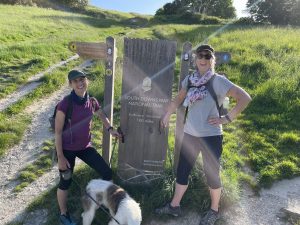 Our final day and bright sunshine to greet us on arguably the most stunning section of the walk. The Seven Sisters are a set of sheer undulating chalk cliffs, with the SDW following within a safe distance of the edge. With a sky so blue we enjoyed every dip and rise as two spitfires suddenly appeared and flew overhead, returning to perform a display above us, seemingly just for us. We whooped with joy, waving like mad things at them!
Passing the iconic red and white Beachy Head lighthouse, we eventually arrived at the finishing post, with hugs and celebrations all round.
I feel incredibly lucky to have had this time with my big sister. It wasn't until we were heading home towards Hampshire (thanks to our lift) that we realised how far we had actually walked this week. All those places we drove past that we had visited over the last few days. What an achievement!
Two sisters walking to the Seven Sisters.