On the Ground in November 2017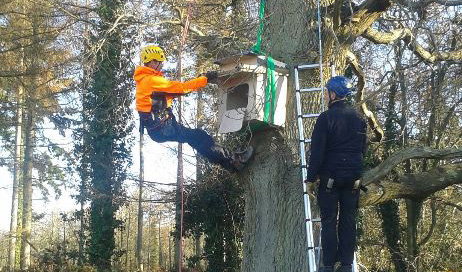 December 6, 2017
Don't forget to say hello if you spot our rangers and volunteers out working in the National Park. Here's a taste of what they achieved in November 2017.
Completed habitat management work in the River Meon at East Meon with the Wild Trout Trust, including managing vegetation planted during previous river restoration work.
Updated the Selborne Landscape Partnership group on monitoring records of the group's key target species and finalised harvest mouse surveys for this winter within the area.
Organised brushcutter training for volunteers ahead of this winter's scrub management work.
Carried out six days volunteering at an important chalk grassland site near Winchester, clearing dogwood, blackthorn, hawthorn and bramble.
Planted hazel at a local coppiced woodland which is managed for the benefit of wildlife.
Helped to clear heathland at RSPB Pulborough Brooks as part of restoration work and in preparation for the reintroduction of the field cricket.
Held a coppicing training week at Clapham Wood.
Led Heartsmart walks at Slindon, Duncton and Petworth.
Repaired barn owl boxes and installed new ones – and found evidence that boxes put up last spring have been used over summer and are active as roosts going into winter.
Made changes to gates to improve accessibility at Graffham.
Resurfacing work on the 100m of the South Downs Way at Amberley and a trackway at Swanborne Lake to improve access for everyone.
Surveyed 100 dormouse boxes for the National Dormouse Monitoring Programme
Carried out habitat management at Kingley Vale.
Installed nine new interpretation panels at Tide Mills.
Quick Links
Learn, Enjoy & Care For
National Park Authority
Planning