Feel uplifted this autumn and connect with nature
Tranquil, enchanting, inspiring and a place to replenish the soul.
The South Downs has always had these special qualities, but the COVID-19 pandemic seemed to amplify the value of having a National Park on our doorstep.
Whether you were walking in the forest, running along one of the many rights of way, or riding your horse through quiet country lanes, it was hard not to pinch yourself during these past few difficult months and remind yourself that we're very lucky to live in this wondrously beautiful, sun-kissed corner of England.
The importance of the South Downs National Park as a breathing space and part of a network of "natural health service" providers has been increasing in recent years.
And, with mental health and wellness coming into sharper focus during the pandemic, the National Park Authority is working with a variety of partners to develop opportunities for people to benefit from connecting with the natural world.
One of the priorities is to develop more "green prescribing"  – working with health and social care providers to encourage people to make the most of the National Park. It could be as simple as a weekly walk in the National Park, or taking part in an arts class inspired by the picturesque landscape.
A COVID-19 Recovery Fund was also launched earlier this year and a raft of community projects are set to be benefit from funding that will help connect communities to the National Park.
"I think many people across all walks of life have found 2020 a difficult and stressful year as they've been balancing work, childcare and the effects of lockdown," says Kate Drake, Health and Wellbeing Officer for the National Park, who was given the newly-created role last year.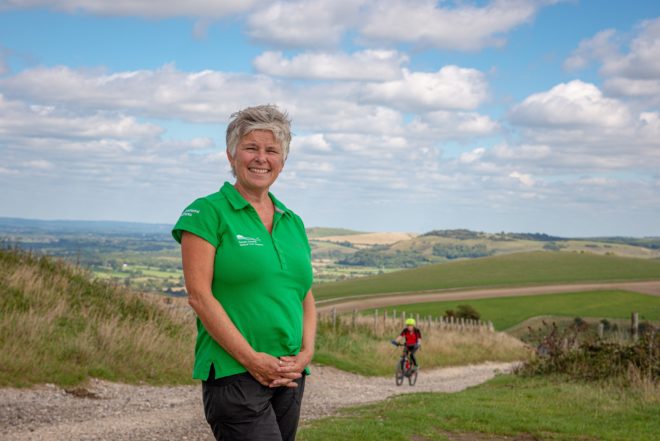 "We've certainly seen a renewed wave of interest in connecting with nature and getting out and just enjoying fresh air and a beautiful view. It's been a real 'pick-me-up' for so many people and we've certainly seen that from the feedback we've had.
"Mental illness accounts for 23 per cent of all ill-health in England and affects more than one in four of the population at any time. It's a stark statistic that is being taken really seriously by National Parks and is driving us to develop new health and wellbeing strategies that complement our wonderful NHS.
"The key thing is we know it does work. Being outside and active with natural sunlight releases serotonin and helps us to feel less stressed. Research shows that just being in nature can have a positive impact on mental and physical health and can enhance one's mood."
As part of the lottery-funded Heathlands Reunited project, the National Park recently helped to launch an educational sculpture trail, with seven stone carvings that tell the stories of the heritage and wildlife of the heaths. There's a field cricket, sand lizard and even an uplifting quote from the poet Tennyson! Families and walkers are being encouraged to download the walk leaflet this autumn and explore the trail.
Kate adds: "We know people have enjoyed the benefits of the outdoors and we're keen that they continue to reap the benefits during the autumn and winter. As the days shorten, it can be very easy to become inactive. With more people working from home, it's become even more important to take breaks away from the screen or even take a 30-minute walk at lunchtime.
"I would encourage people to start small. Perhaps go for an hour long gentle walk on a Saturday afternoon. Take notice of the beauty around you, look at the trees, listen to the birds and look up at the sky and soak up the views on the horizon. These are all simple, free things that nature has to offer us and you'll be surprised by how uplifted you feel!"
Kate says she's really proud to be working for the National Park as it marks its 10th birthday this year.
She adds: "We live in one of the busiest parts of the UK.  So what makes the South Downs National Park so special for me is its ability to provide an outlet for escape, adventure, enjoyment, inspiration and reflection. And those stunning views never get boring!"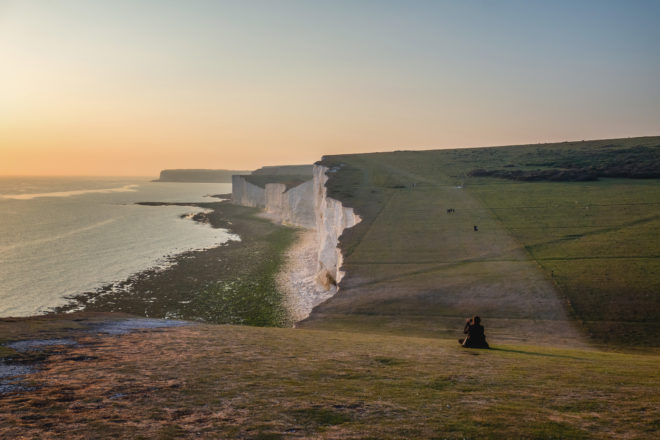 Have you tried forest bathing yet?
As October sees the return of world Mental Health Day, why not try a walk in the woods to bring a sense of wellness?
The National Park is a treasure trove of woodland, such as Alice Holt, Stansted and Friston. As the autumn leaves fall, now is a great time to explore these treescapes! Forest bathing simply means immersing yourself in a forest setting.
Originating in Japan and now a cornerstone of Japanese healthcare, it's a natural way to calm the senses and promote a feeling of peace in a busy world!
Here are some of Kate's top tips for forest bathing:
Turn off your electronic devices
Breathe in deeply to your abdomen –try to make your exhalation twice the length of your inhalation
Slow down – tune in to the sights, sounds and smells around you
Be observant, keep your eyes open – you'll be surprised at the number of wild forest inhabitants you might see using this process
Stay as long as you can and build up the time as you practice.