Discovering the crickets and lizards of new Sculpture Trail
Glyn Dodwell, Ordnance Survey GetOutside Champion, recently tried out the Heathlands Sculpture Trail and describes his adventure here.
The heathland of West Sussex and Hampshire is a landscape very close to my heart.  My father was a lepidopterist and a Fellow of the Royal Entomological Society. My recollections, as a young 10 year old, were journeys to the heaths from Somerset to study the butterflies unique to this environment.  My father died over 30 years ago but his passion for the heathlands of the South Downs still lives on as strongly in me as it ever did.
Less than one per cent of the original heathland remains in the National Park and what's left is very fragmented.  As a result, this has reduced the diversity of plants and animals that make heaths both interesting and scientifically important.
These sculptures are beautifully carved and, as well as looking good, they also serve as a seat for the weary.  The locations are detailed in an excellent leaflet that is available to download.
One side shows a stylized map of the area and highlights where each of the heaths are and their related sculpture.  The other side of the leaflet details each sculpture in turn with background information and an Ordnance Survey grid reference. However, the grid references are 6-figure, so their accuracy is 100m. The aim is the get the visitor to explore the whole of the heath while looking for the sculpture.  Having said that, I found the Lavington Lizard very easy to find but the Wiggonholt Cricket frustratingly difficult!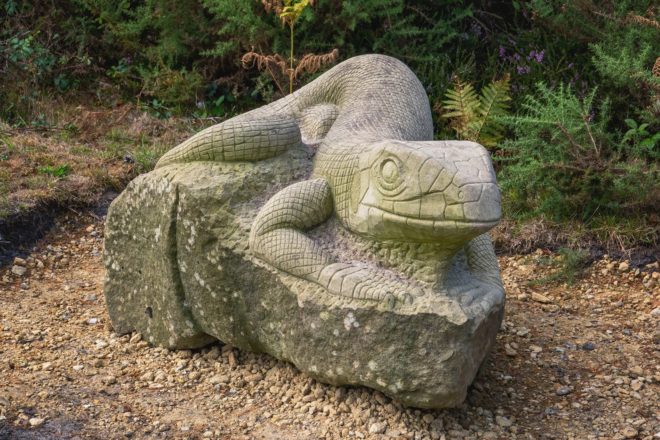 Five of the seven sculptures are located on, or very close to, the Serpent Trail – a 64-mile footpath running from Haslemere to Petersfield though some of the best heaths and commons in the National Park. It's important the heathlands are preserved and fully understood by the generations to come. The use of technology with the sculptures allows everyone to access further information on their mobile devices.
Even if you cannot visit all the sculptures and heaths; select one close to where you live and learn more about this magnificent landscape and natural environment. You will also walk through some of the most beautiful scenery in the south of England.