Celebrating Nature Reserves in the South Downs
June 9, 2023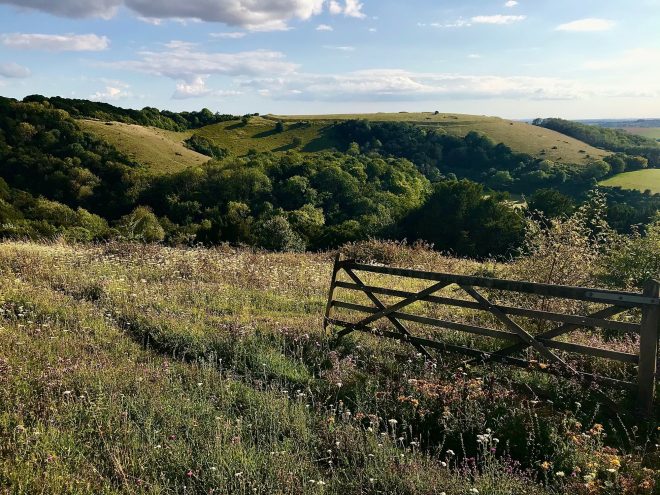 To mark National Nature Reserve Week, Michaela Hawkins takes a look at the importance of these sites at the western end of the National Park.
Hello readers! I'm one of the Reserve Managers working for Natural England in Hampshire and, until recently, I worked for the National Park Authority.
There are nine National Nature Reserves in Hampshire, four of which are in the National Park and they are: Old Winchester Hill, Beacon Hill, Ashford Hangers and Butser Hill.
Across the country there are many more! From the very first six in 1952, there are now 221 NNRS in England.
As well as being havens for wildlife, National Nature Reserves act as outdoor laboratories where learning, science and discovery come together.
Natural England manage Beacon and Old Winchester Hill (pictured above) so I thought I would share some fun facts about the two sites:
Old Winchester Hill
It's a 63.8 Hectare chalk downland reserve
The South Downs Way runs through the site
The main feature is that the highest point of the site, at 197m, is the remains of an Iron Age Hill Fort. So the hilltop, ramparts, earthworks and the south-facing slopes are designated as a Scheduled Ancient Monument.
Sheep are important to help manage the chalk grassland. The breeds used are native Herdwicks and Black Welsh Mountain sheep
Beacon Hill
It's a 40-hectare chalk downland reserve
The South Downs Way runs adjacent to the reserve.
There is also a Scheduled Ancient Monument on this site as well, comprising a barrow cemetery and medieval Holloways
We're currently monitoring butterflies, plant species and other invertebrates.