Brighton holiday provider launches partnership to help support vital projects in National Park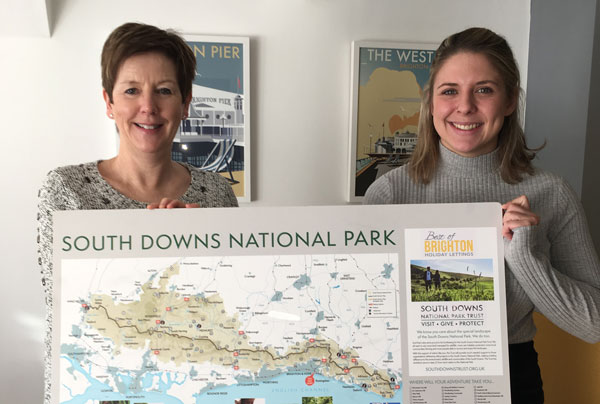 Leading holiday business Best of Brighton has launched an innovative partnership to help protect and enhance the South Downs National Park for future generations.
Best of Brighton, which runs more than 120 holiday cottages and apartments across the city and Sussex, has become an official Visitor Giving partner of the South Downs National Park Trust.
The partnership, launching on February 1, will mean that holiday-makers have the option of donating £1 on top of the cost of their stay to help protect the extraordinary landscape on the city's doorstep.
All voluntary donations will go to the Trust, which is working closely with national and community-based organisations for the benefit of the Park and the people for whom it was created. Among the initiatives the trust is helping to fund are new community cycling and walking routes, including for those with limited mobility and young families, and the protection of endangered species such as the White Letter Hairstreak Butterfly.
Abi Radford, from Best of Brighton, said: "We are honoured to announce this partnership with the Trust in becoming a Visitor Giving partner.
"The South Downs National Park and its beautiful landscape is the 'back garden' to the city of Brighton and Hove, bringing millions of pounds to the tourism economy and a wealth of leisure opportunities. We're proud to be playing our part as a local business in helping to protect this important asset for future generations to enjoy."
Sandra Grant, who oversees the Visitor Giving Scheme for the South Downs National Park Trust, added: "We're delighted to welcome Best of Brighton and are looking forward to working closely with them to help protect and enhance our National Park. A number of local businesses have already joined our scheme, particularly in the tourism and leisure sector, and it's testament to the value of the National Park as a wonderful place to live, work, and visit."
Visitor giving is a simple way of inviting voluntary donations from visitors, inspiring them to put something back into looking after the places they love to visit. Any business interested in signing up to the scheme can contact Sandra Grant on Sandra.Grant@southdownstrust.org.uk or call 01730 819223.
The South Downs National Park Trust is the official charity of the South Downs National Park. To find out more about the South Downs National Park Trust and the work they do visit www.southdownstrust.org.uk
Quick Links
Learn, Enjoy & Care For
National Park Authority
Planning