Best winter walks in Hampshire
November 15, 2022
There's no better feeling than coming back into the warm after a cold, crisp winter walk.
Whether you're searching for a pre-Christmas walk to de-stress in the lead-up to the big day or looking to burn off a few calories between Christmas and New Year, Hampshire is blessed with plenty of walking routes to give you much needed time in nature, exploring the best the season can offer.
East Meon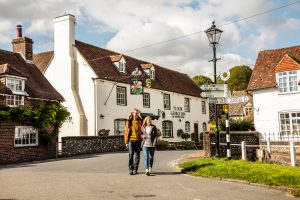 The picturesque village of East Meon, once owned by the Bishops of Winchester, is home to many historic buildings including the Old Court House.
The Ye Olde George Inn and the Izaak Walton Public House offer delicious local food and real ales, along with a roaring fire to warm you up after a lovely stroll through the beautiful Meon valley. 
Our walking guide suggests two circular walks, both starting at the imposing Norman church of All Saints with its magnificent spire.
One walk of 4 miles should take approximately two hours and the second, a longer walk of 8 miles, which can be completed in around four hours.
Download the East Meon walking leaflet.
Cheriton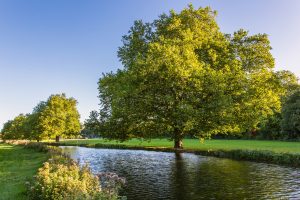 This pretty Hampshire village has a church which sits upon an ancient barrow and the crystal clear River Itchen, which rises nearby, running alongside picturesque thatched cottages.
It's also steeped in history as it was the site of a decisive battle in the English Civil War.
The Battle of Cheriton took place on 29 March 1644 in the fields to the east of Cheriton. The Battle was between the Royalists led by the Earl of Forth and the
Parliamentarians under Sir William Waller.
The Parliamentarians won, halting the Royalists advance to Winchester and forcing King Charles I's troops on the defensive, leading to their eventual defeat in 1645.
For those looking for a longer winter walk, we would recommend the 10 mile Cheriton loop, starting and finishing at Cheriton village hall.
Post-walk, why not pop into The Flower Pots Inn or The Hinton Arms to rest and recover with a traditional pub lunch.
Queen Elizabeth Country Park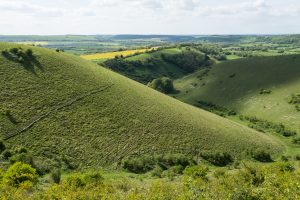 Just three miles south of Petersfield, Queen Elizabeth Country Park offers over 2,000 acres of open woodland and downland.
Open every day other than Christmas Eve and Christmas Day, Queen Elizabeth Country Park is your starting off point for exploring Butser Hill, one of the highest points in the National Park.
With 360 degree views, Butser Hill is one of the best places to admire the Dark Night Skies of the South Downs. 
The on-site Beechwood Kitchen serves up hot drinks and food using locally-sourced ingredients.
Alice Holt Forest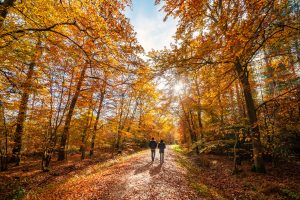 The Forestry England-managed Alice Holt Forest is a must see for lovers of trees and woodland.
Come the winter, the trees have completed their transition with the forest floor turning into a patchwork of orange, ochre and gold.
With five trails of differing lengths and distances, there's plenty for families along with those looking for something a little more challenging to while away those wintry days.
If looking to head to a pub to warm up after, The Jolly Farmer and The Bluebell are right on the edge of Alice Holt. Both pubs are dog-friendly and serve-up tasty, seasonal food.
Hampshire Hangers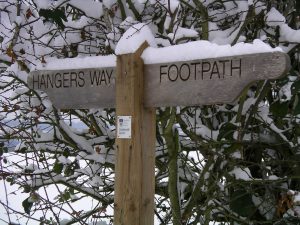 Lose yourself in steep valley sides cloaked in hanger woodlands.
The Hangers Way is a 21-mile long-distance trail between Alton railway station and Queen Elizabeth Country Park, where it eventually connects with the South Downs Way.
The Way is divided into 8 different sections, ideal if you don't fancy completing it all in one day.
However, if you do want to do it all in one day, Petersfield makes for an ideal rest point and has numerous pubs, cafés and delis to allow you to fuel up before continuing the rest of your journey.