10 questions with…Ruth Childs
We catch up with the National Park Authority's Landscape Officer Ruth Childs.
Three words that sum up your job in planning?
Collaborative. Challenging. Varied.
Okay, so what's your role at the National Park?
I sit in the Performance and Technical Team – we are a team of specialists and provide advice across the Planning Directorate.  My role is mainly to provide guidance on the effect of development or planning policies upon landscape, views and visual amenity.  This means almost anyone can ask me for guidance, so you'll often see me spinning many plates!  Both built development and 'green' development can have positive and negative effects on landscape, so I'm often in touch with those in the Countryside and Policy ManagementTeam too. My overarching aim is to help applicants achieve the landscape-led approach to design – being inspired by a place's character, heritage and wildlife to achieve sensitive change on a site, maximising benefits and minimising negative effects.
What appealed to you about working in planning?
I didn't 'plan' my career in planning.  I followed my nose, and once I left the seas behind (I did my degree in oceanography and geology) I started working for a small charity focusing on species and habitat understanding and conservation, moving into landscape research and planning for an AONB and then a County Council where I began providing landscape advice. Sometime in the private sector brought be closer to planning where I produced LVIA and undertook survey and evidence work to support local plans.  Last year I was invited to join the Landscape Institute – following an application process I was awarded a Chartership late last year. Much of the wider work of the National Park and Landscape Institute are aligned and so I'm looking forward to participating more with the Institute and amongst many other things, encouraging young people to take careers founded upon good understanding landscape and place.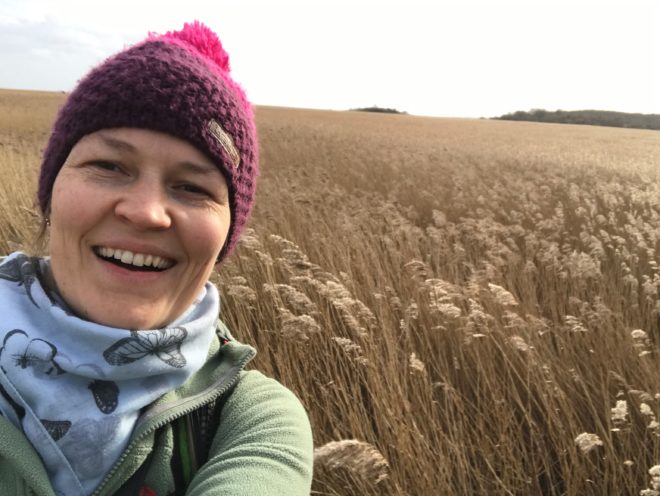 Can you describe your typical day?
Every day is different, but there are a few things that pop up regularly.  I almost always spend some time each day undertaking landscape research to help inform my opinion about an application.  This is usually GIS-based and I'll study historic maps, designations and landscape character evidence to determine how sensitive a site might be, this is usually supported by a site visit. In parallel to this I might be reviewing the planning application, starting to formulate what I think about a proposal. This involves reviewing a lot of documents!
Best thing about working in planning for a National Park?
Can I have two things?!  Finding solutions as a team and exploring the Park.  There is always something to new to learn and each application gives me the opportunity to research and explore new parts of the Park. Working together with colleagues to find solutions and get the best outcome for the National Park is definitely top of my best things list.
What do you love about the South Downs National Park?
There is a landscape to suit every mood!  The South Downs includes seven nationally distinct landscapes, so I would have to say the thing I love is its variety.
Currently reading/watching?
We've just binged the seven series of the West Wing, which I never managed to get into when it was released….I feel somewhat bereft without it now!
If you could only eat one food for the rest of your life, what would it be?
Cheesecake…no…banoffee pie….no homemade curry with all the extras…no a classic roast dinner….too difficult!
Who inspires you?
That's a big question – if I had to choose one person it would be David Attenborough.  We grew up exploring and being inspired by the same ancient Precambrian landscape in Leicestershire – a landscape identified in the Hobhouse Report (1947 report setting up the designation of National Parks and 'Conservation Areas' – now AONBs) and one of the remaining few still to be designated.
Describe your perfect day (when not working, of course!)
Up early – pack a bag with coffee, lunch and an endless supply of Eccles or Welsh cakes.  A lovely long walk – preferably with opportunity to get in a canoe at some point, with a picnic lunch and lots of stops for photography and snacks! A bottle of something and home-cooked food (hopefully that's already been made) in the evening.