What do volunteers do?
There are several ways in which you can get involved as a volunteer:
Volunteering outdoors on practical conservation work and access improvement
Monitoring the condition of the South Downs Way National Trail, or other access in the Area
Volunteering on office-based projects
We aim to make the activities you are involved in as a volunteer engaging, interesting and satisfying.
Outdoor Volunteers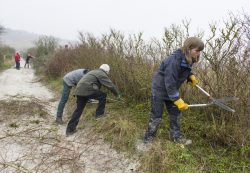 Volunteers carry out both practical conservation and public relations work; the balance varies slightly according to the area, the season and your areas of expertise. Volunteers also provide advice and guidance to visitors.
Typical tasks:
Chalk grassland and heathland conservation
Woodland management
Hedgelaying
Improving public access
Surveys of flora and fauna
Attending public events
Training
Volunteers receive task-focused training  from staff and volunteer leaders, as well as classroom-based training course that all recruits are asked to undertake. Courses are held annually and provide a broad introduction to countryside management and conservation.
Training available to volunteers includes:
Introduction to Countryside Management & countryside organisations
Practical Conservation
Countryside legislation
Public access to the countryside
Geography, History and Ecology of the Downs
Incident Handling/ Public Relations skills
Health and Safety
South Downs Way Volunteer Wardens
Volunteers support with monitoring the condition of footpaths, bridleways, statutory 'Open Access' areas along a specific trail, or on a section of the South Downs Way. Once or twice a year volunteers will be asked to report on any problems they find during their surveys. Full training will be provided.